BEP CZone seen live, more coming
... written for Panbo by Ben Ellison and posted on Nov 30, 2010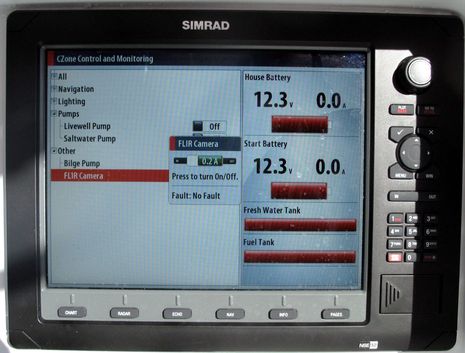 I wrote about BEP's CZone distributed power last April, but didn't get to see it live until I got a ride aboard Simrad's demo boat during the Fort Lauderdale show. Isn't it neat that the control screen can show you the amperage flowing through a specific circuit (and apparently detect a fault)? And if it's on an MFD, couldn't valuable details like that also be on apps pads and phones like I recently saw live with Maretron's N2KView? In April I also wrote about what a difficult niche distributed power is, but I still think the magic of digital switching is one of the most interesting frontiers in marine electronics. And that we're going to hear a lot more about it in 2011. BEP, for instance, made a series of announcements during METS...
First up is new
AC Control and Output interfaces
, with features like
automatic load shedding
. (Because it's a lot harder to protect and switch an AC circuit with a
MOSFET
, I think BEP is using solenoids and mechanical circuit breakers, like Octoplex and others do.) The company also
announced an integration partnership with Victron
, though the release is not specific about what that means. CZone uses NMEA 2000 to distribute monitoring data and control commands; will Victron adapt to N2K or interface its charger/inverters and other gear some other way? At any rate, it will soon be possible to see the results on
new CZone 8- and 10-inch touchscreen monitors
like the one below.
BEP also announced
that its original Simrad NSE integration partnership will be extended to the
NSO blackbox system
and to
the B&G Zeus
.
Meanwhile, I understand that NMEA's working group on power-related NMEA 2000 PGNs is moving closer to the point where a lot of this stuff can be done with a mixture of gear from manufacturers who may not be special partners. In fact, the group is considering using
Gizmo
as a test platform; of course I'm intrigued about the possibilities but also apprehensive about tearing up my dear boat's conventional circuit breaker system. More to come, when possible.