More on iPad as extra nav screen, from Nobeltec
... written for Panbo by Ben Ellison and posted on Oct 23, 2010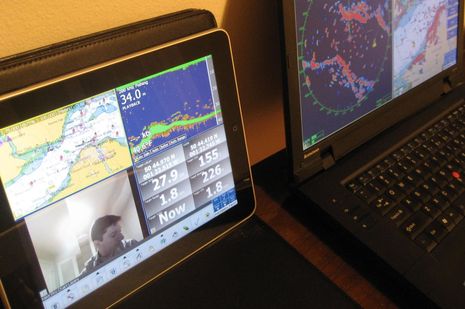 It's not just the new edition of Coastal Explorer that can play nicely with an iPad. In fact, it turns out that anyone running Nobeltec Admiral v6.5 or higher can get their iPad to show a variety of independent screens like the one above. (Right up through the latest 10.7 update, which apparently fixes numerous bugs, adds support for the latest Windows versions, and marks the welcome demise of Jeppesen's Raster Plus Pack gaff.) That's because Admiral has long supported the extended desktop capabilities of Windows, as well as touch screens. But Nobeltec Product Manager Bill Washburn, glimpsed in his own camera above, warns that screen refresh rate is marginal, at least at this point...
It turns out that Bill and his team have tested both apps that can send live PC screens to an iPad via WiFi, and found them both wanting. While
iTeleport for iPad
, which costs $25, is purportedly pretty fast, it can only repeat a computer's screen, not extend it. Bill also reports that it requires separate VNC server software on the PC as well as a gmail account that it can use for authentication, which may not work if you're offline.
Avatron's $10 AirDisplay
, on the other hand, is "relatively easy to set up" and "seems happy to connect on a local WiFi LAN without needing to access resources on the Internet." And it does support extended desktop screens, as shown above, but it's slow, as in "nearly unusable when trying to stream radar, sounder or video," writes Bill. I recall that the Rose Point folks also said that AirDisplay is too slow for radar and the like.
While AirDisplay might be useful for extended chart plotting or instrument screens (which involve less bandwidth and seemed to work fairly well on the CE setup I saw), let's hope that Avatron or a competitor can speed up this type of utility app for better integration with a boat's PC based nav system. Though there will be other ways to skin that cat, like
Digital Yacht's iAIS
. In the meantime, I wonder how well a cockpit iPad worked out the racers who
purportedly used them in the recent Figaro
. I also wonder what the French man actually said that Google very badly translated as, "When they need a precise mapping, for example when they go knit in the stones, they can take the iPad knees while blocking." Yike! Is there a human translator out there in Panbo land? And finally I will be very curious to see what Nobeltec unveils aboard their demo cruise during the
Fort Lauderdale International Boat Show
(aka FLIBS) this coming week, whether it involves iThings or not.