Simrad NSO, the NSE series goes big
... written for Panbo by Ben Ellison and posted on Sep 17, 2010
This week in Newport, and in Southhampton, Simrad introduced the NSO Navigation Series, a black box version of the NSE system, and while it's hard to imagine an MFD faster than an NSE, even the prototype NSO I fooled with yesterday seemed so. The processor box is, in fact, the same as the one used on the GB40 Glass Bridge system, only with a new 80 gig hard drive and all new software from Linux on up. There will even be an upgrade path for GB40 owners, and I suspect that will be tempting...
The NSO will support all the hardware NSE does -- like Broadband Radar and Sonar, StructureScan, HD Radar, SimNet and NMEA 2000 whatever, etc -- plus all the app-like functions Simrad added with the NSE 2.0 update -- like autopilot control, SonicHub audio, and C-Zone distributed power. A single $4,800 processor can feed up to three monitors (repeat only), and a keypad can run up to four processors. And you can mix NSE 8- and 12-inch MFDs with NSO processors, as illustrated below in one of many possible configurations.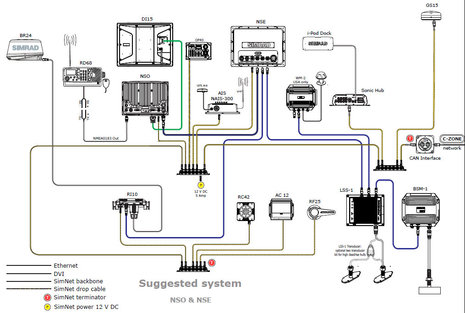 An NSO system can run two radars, but Simrad told me they won't recommend pairing a BR24 with a pulse radar due to the interference issues. But the pairing will work and in my experience the interference is tolerable if the scanners are mounted distant enough horizontally and/or if the Broadband is set at a close range and the magnetron further out (and they still working to improve the IR). At any rate, NSO sure looks like a smart advancement for Simrad, and possible good news for those already using NSE or GB40 systems. Here, by the way, is a closeup of the new OP40 keyboard, which mimics the NSE (except for the Display/Processor control). It runs on SimNet and a planned software update will allow it to also be used simply as a remote keypad for an NSE.