Simrad BSM-2, Broadband Broadband sonar
... written for Panbo by Ben Ellison and posted on Sep 30, 2010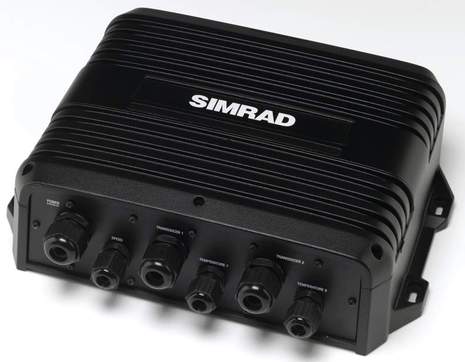 Just about the time that Navico introduced Broadband Sonar, Airmar began rolling out a series of Broadband transducers claimed to enable dramatic advancements in fishfinder performance. Which was confusing, especially as no manufacturer offered a fishfinder able to take full advantage of their abilities. Well, darned if Navico isn't the first to at least announce such a sonar. Meet the Simrad BSM-2 "broad band" Broadband fishfinder...
This is serious gear -- the big BSM-2 blackbox priced at $2,500 plus nearly as much, or more, for a transducer or two, depending on the models -- but so too are the performance claims. I don't have any screen shots to publish yet, but I saw some yesterday that seemed pretty amazing. Like holding bottom at 10,000 feet off Mexico, finding narrow holes at a few hundred feet that the original BSM-1 missed entirely, and identifying marlin swimming 200 feet below the boat (confirmed purportedly by a photo of a grinning Navico engineer with his catch). Five times better resolution is the boast. And it does make sense that an acoustic "chirp" can deliver back more information,
as explained at Wikipedia
.
The BSM-2 will of course work with NSE series of MFDs as well as the
new NSO blackbox system
, when it ships next March. But other manufacturers have been talking about the wonders of chirp fishfinding for some time, and I wouldn't be surprised if there more high end boxes like the BSM-2 announced soon. Let the broadband sonar wars begin.