Raymarine introduces thermal cameras, but FLIR Nexus still open
... written for Panbo by Ben Ellison and posted on Sep 7, 2010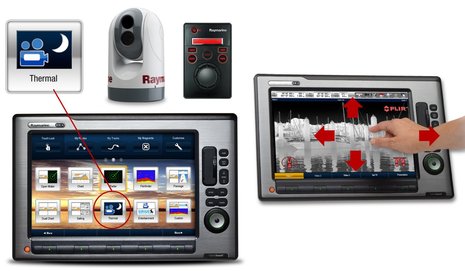 Given that FLIR, the big daddy of thermal imaging, purchased Raymarine in May, few will be surprised that Ray is introducing its own thermal cams. In fact, I think the Raymarine T300 and T400 model series will simply be re-branded FLIR M-Series cameras, though the control and integration possibilities are interesting. For owners of Raymarine E Wide and G Series MFDs, the joystick control above will be optional; the first group will be able to pan and tilt the camera using their touch screens, as shown, while the latter can use a G's detached keyboard. And while the short initial press release doesn't say anything about niceties like automated target tracking, we already know that the Nexus operating system FLIR builds into these cameras offers such capabilities...
When I met with FLIR and Raymarine representatives recently, I asked if FLIR had changed its mind about encouraging all MFD and PC charting developers to use Nexus tools offered by
its networking division
to build in camera integration, an attractive concept announced at the Miami show in February and
demonstrated there in MaxSea TimeZero
. The answer was an emphatic no; FLIR pointed out that its overall business model has long walked the delicate line of both supplying and competing with such developers, and the Raymarine acquisition hasn't changed that. And, sure enough,
a listed new feature of MaxSea TZ 1.9
is a level of M-Series control and camera view visualization that may exceed what Raymarine starts off with...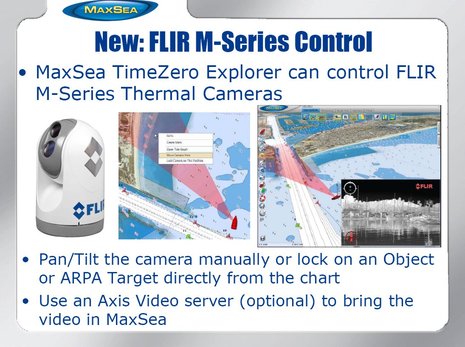 But I also came out of that meeting with some images which suggest just how powerful Nexus is, and...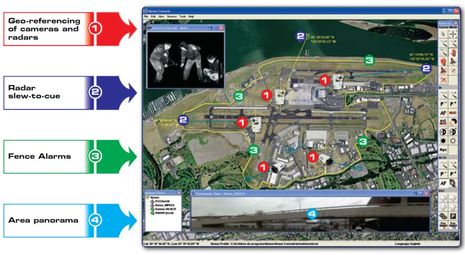 how deeply embedded into future Raymarine vessel systems it's envisioned to go:
Frankly, I don't completely understand what the diagram above means, but it helps if you listen to
the interview MadMariner did with FLIR's Andy Teich
. Meanwhile, the graph below is fairly easy to comprehend, even if it seems radical today. FLIR believes that the history of thermal cameras will go like GPS,
from expensive novelty to must-have equipment
, and even thinks that they'll become more popular than radars (though not replacing them). If today radar is the third most common major electronics item, on about 45% of the boats that already have MFDs, FLIR believes that thermal will one day reach 50% penetration, and it doesn't seem all that important to them whose labels go where.