Earl aftermath, & thumb's up to Bluefin Marine Weather
... written for Panbo by Ben Ellison and posted on Sep 5, 2010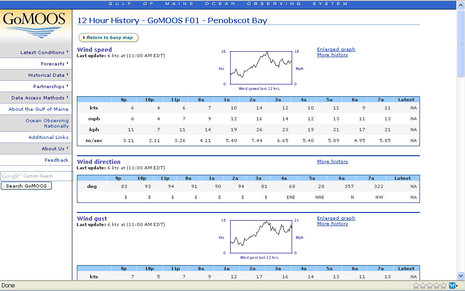 It is disconcerting when all the waterfront owners within a few hundred feet of your boat remove their floating docks for fear of hurricane damage! In fact, the harbors in my area were jumping on Thursday and Friday; lots of boats got hauled, and the rest of us hunkered down with chafing gear and extra lines applied, sails and biminis removed or trussed up, etc. etc. But Hurricane Earl lost its steam, big time. Even the Friday 6 pm forecast by our most reliable local source, Locus Weather, turned out to be way off the mark; instead of the predicted late night easterlies of 30-35 knots with gusts over 40, the GoMOOS F01 weather buoy recorded a max hourly average 14k with a max gust of 17. I slept aboard Gizmo like a baby...

Like most people, I used multiple sources to track the storm, though most of the underlying forecasts and data come right from the
NOAA's National Hurricane Center
in Miami. When I'm at a computer, my favorite is
Weather Underground
, which has
some graphics
like multiple computer tracking and intensity models that NOAA doesn't seem to make available. But of course smart phones are getting very good at delivering weather data, and I've become particularly fond of an Android app called
Marine Weather by Bluefin Engineering
, seen below as Earl drenched us Saturday morning. It's all just regurgitated NOAA data, but the app delivers animated NEXRAD radar, marine text forecasts, buoy reports, and tides all in one place, which is pretty much all I need most days. As you can see here, the screen gets pretty busy, but it gets better as you zoom in, and you can reduce the layers presented anyway. It's been quite fast so far, though I haven't yet taken it outside good 3G coverage. At any rate, my first clues that Earl was falling apart were the buoy reports south of Cape Cod that I finger tapped while having an early dinner at the Waterfront, and I later used it to keep tabs on real time conditions from my berth. A lot of this data is also now included in the
new charting app EarthNC
, and it would be nice to see it come to all Internet-connected charting apps, don't you think?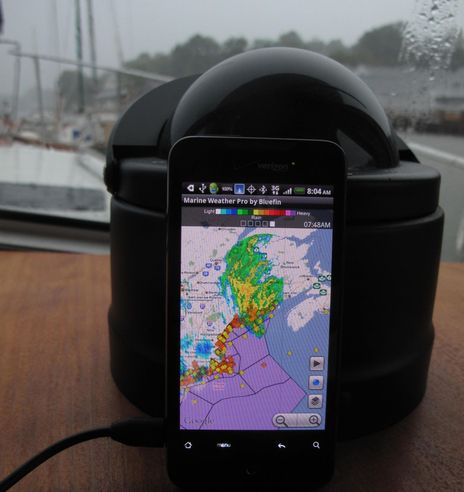 Incidentally, I've yet to run into anyone around here who's upset that the forecasts were wrong. "Better safe than sorry" is the phrase of the day, and everyone seems to understand that hurricanes are difficult to predict, as hard as all of NOAA's meteorologists and super computers work at it. Note how this guy is grinning as he begins to reinstall floating docks in the last downpour yesterday morning.