SiMON2, for iPad & "smaller" yachts
... written for Panbo by Ben Ellison and posted on Aug 3, 2010
The press release calls SiMON2 "the first alarm monitoring system for the new Apple iPad," which seems odd given what we've already seen from InteliSea. I think what Palladium Technologies was trying to say is that SiMON2 is the first such app designed exclusively for the iPad. It is not just an extension of a full bore PC-based megayacht system, like iSiMON or InteliSea, but rather a new iPad-centered monitoring system designed for "smaller" yachts...

Given the world Palladium generally works in, what it thinks of as "smaller" may not meet your definition, as suggested by the screen below. And unfortunately
the SiMON2 product page
is not specific about the sort of sensor system used or the pricing. But, dang, doesn't it look like a beautiful tap and swipe iPad app? I haven't seen screen shot illustrations, but apparently you can use it not only to see what's going on around the boat, but also to control lighting and cameras. There is a $4 demo now
at the iTunes store
, and maybe one of you will try it and report back.
I'm sorry to add that Maretron's appealing efforts to adopt
N2KView
to iThings (see
bottom of this entry
) got badly set back when Apple extended its war against Adobe with
new OS4 development restrictions
. Oy! But surely some great Android and maybe even Windows tablets are in our future, and I've got to believe that forward-looking marine electronics companies are trying to figure out how they're going to make use of them. At the moment I guess the big issue for us "smaller" yachts is how to easily and efficiently get NMEA 0183 or -- better yet -- NMEA 2000 boat data onto WiFi and hence to pads, phones, etc. Tom MacNeil, who
enthused here about iNavX
, has
made a video
about how to make its TCP/IP connection,
Grahame Shannon
is working in the same area with both iNavX and Coastal Explorer...what else is going on?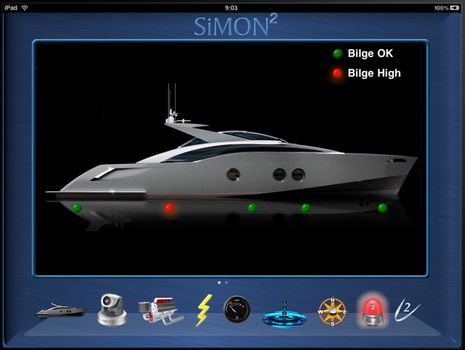 <