Gizmo bridge 2010, a shout out to Garmin ID
... written for Panbo by Ben Ellison and posted on Jul 29, 2010
While Panbo's logo is still a work in progress, check out the sharp name plate Gizmo is sporting, thanks to Garmin's industrial design department. Gander too at how much electronic goodness I managed to squeeze onto the boat's latest flying bridge dash, and note that a wider view would also show a Furuno MFD12 and a Raymarine E140 Wide with room for more! It's quite the testing platform and you'll be seeing lots of pictures and screen shots taken here, but today let's tour that cool design shop in Kansas...
I've already written
one entry about the design capabilities
I saw during my Garmin visit, but I didn't mention how the ID team showed off their chops,
and
their collection of rapid prototyping machinery, by whipping up
Gizmo
plates in several different medium. The semi-transparent ones below at left, for instance, are fairly quick to make -- via a 3D printing process -- but not very sturdy, while it took some serious computer driven cutting heads a while to cut the silver/gray beauty (now on my dash) out of solid aluminum stock. And ideally you'd want such a variety of prototyping techniques as you went from modeling numerous possible designs to refining the finished one...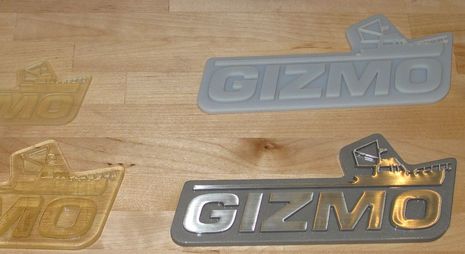 In fact, it makes sense that an industrial design department hoping to get things done as quickly and creatively as possible would want about every tool imaginable, along with folks skilled at their use. And
Garmin being Garmin
-- a large engineer founded and run company determined to do every step of the electronics design and manufacturing process itself -- it's got one heck of an ID shop. Many shops, actually, including fully outfitted wood and metal working spaces, several paint booths with mix-any-color set ups, and even a big garage for customizing vehicles and small boats. I can't remember the brand of the bow rider seen below (anyone?), but I know for sure that its stock dash is not designed to fit
a Garmin 700 series
so neatly. (I also know that this custom dash makes my efforts with PVC board at top
and here
seem a little pathetic ;-)...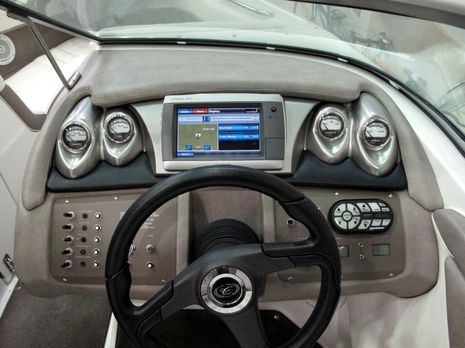 Anyone who likes to make things with their hands would drool at Garmin's facility, and there were some signs that many of the ID personnel are happy to be there, and may even hang out there during off hours. There were, for instance, some impressive personal radio control plane models on display at some work stations, and I heard rumors of a legendary electric car track. And consider the grin on this gentleman, who is just completing a model of a Garmin avionics suite that will be gifted to certain corporation that just fitted a new fleet of real planes with
the real gear
...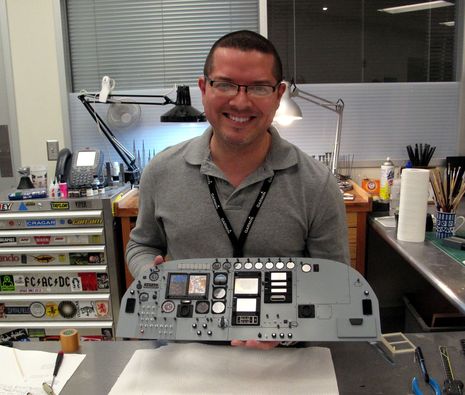 When Garmin was small, not that long ago, it was probably possible for someone from another department to wheedle their way into the ID shops for a weekend project -- I'd sure try -- but those days are past (
short history here
). Which may account for the ID department's playful "Area 51" theme shown a bit below, carried out with skill and style. Like
Gizmo's
name plate, for which I'm very grateful.