Minn Kota's i-Pilot robot, & Geonav for real
... written for Panbo by Ben Ellison and posted on May 4, 2010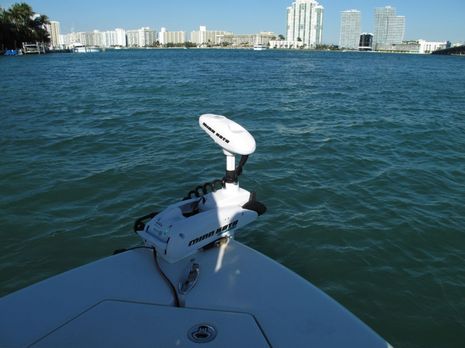 The Miami demo of Minn Kota's new i-Pilot technology got somewhat humorous. After some time with that trolling motor head turning this way and that as it automatically retraced a GPS track or pulled us along to a waypoint -- where it could even maintain station -- I started thinking of it as a faithful, friendly robot. If I owned one, I might paint eyes and a smile on it to heighten the sensation. And in retrospect it might have been whispering, "Hey, bub, I represent Johnson Outdoors technology prowess; wait until you see Geonav!"

As shown by my colleague
Chris Woodward of Sport Fishing
, the i-Pilot is a simple ($400) retrofit to many existing Minn Kota trolling motors. That head cap must contain a GPS and some silicon brains, plus there's a wireless remote...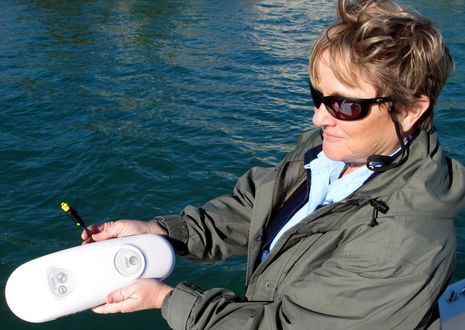 The remote seemed a bit complicated, but not once you watch the videos
at the top of this Minn Kota page
. Of course, I was curious what sort of wireless is being used, and what else could be done with it...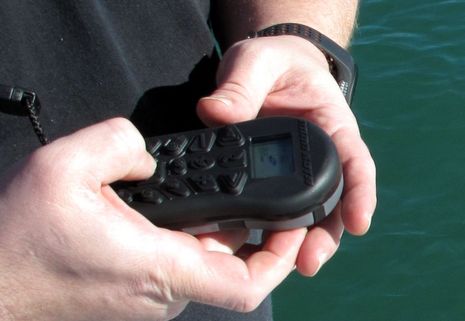 For instance, couldn't a plotter like the Humminbird 1197c below -- which is here showing how accurate i-Pilot's track tracing was (and is also capable of
some amazing Side Imaging
) -- do some interesting things with friendly robotic propulsion? The Minn Kota and Humminbird product managers on board for the demo grinned about that question. Both these companies, mind you, are divisions of
Johnson Outdoors
, which also
purchased Geonav in 2007
...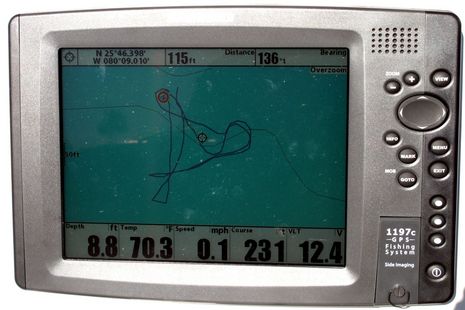 So it wasn't a huge surprise to see Bruce Angus with a boat load of Geonav gear tied up next to the Minn Kota/Humminbird demo boat in Miami, even though Geonav is not yet available in the States. Angus -- who's had long and distinguished career with the likes of Navionics, Northstar, and Laser Plot (and who
plays a mean guitar
) -- was apparently giving U.S. dealers a taste of what's to come, and wasn't exactly enthusiastic about being photographed. But now it's official: the May/June issue of
NMEA's Marine Electronics Journal
has a long article about how the
Geonav G12
and a family of related gear will have their U.S. debut at the Seattle NMEA Conference in Sept. and then at the Fort Lauderdale Show. The brand's new tag line is "Go. Boldly." and Angus says it "will compete head-to-head in the global market with established competitors such as Raymarine, Furuno, Garmin, and Simrad." I wonder if this news will make a difference to the regulators who may look over the
Garmin/Raymarine deal
, and if the "big four" brands might go to three and then back to four again?