Green Marine monitors, first look
... written for Panbo by Ben Ellison and posted on May 24, 2010
Yes, the photo is largely under exposed, but the point was to illustrate the relative brightness of the new Green Marine LED-backlit AWM-1900 monitor I checked out in the lab last week. I think it would be usable in sunny conditions, and it's fast enough to show an action movie without noticeable blur, either in a PIP window as shown, or full screen. It was also pleasantly surprising to find that even an inexpensive Asus netbook (dimly showing neat NavMonPC freeware) supports a dual monitor desktop these days, including the AWM's 1280 x 1024 native resolution. I did not test the monitor's promised front side water tightness, but it's quite apparent that the back side has to be well protected...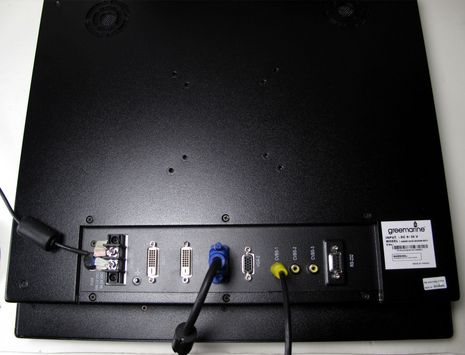 When this monitor is properly sealed into a dash, though, the faint fan noise probably goes away altogether. But that back reminded me how exposed a multi-input monitor like this can be versus, say,
the Planar LX strategy
, where inputs are kept to a minimum and video mixing/switching is done with a PC or a breakout box down below. (I also wonder how that LX and other touch screens
achieve so much brightness
without fans.)
At any rate, the AWM-1900 is back on the road again, being shown to potential distributors around the country, and even at $5,000 it's still value priced versus much of the competition, as discussed in
the original Green Marine entry
. Remember, though, that Green also introduced
the $1,600 Work Boat 15
, which I'm going to test for the season in
Gizmo's
sometimes overly bright pilot house. I already know from the lab that it won't show fast video as smoothly as my big HP laptop, and it similarly lacks a protective glass face. But it should display charting (and regular) software well even on the sunniest days, and it does dim to black for night running (an important feature sometimes overlooked by folks trying to get away with home/office monitors, though there are
work-arounds
).