ON AGAIN! Garmin makes offer for Raymarine
... written for Panbo by Ben Ellison and posted on Apr 28, 2010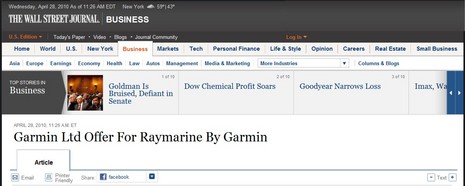 Amazing! Garmin just announced a very public and serious offer for Raymarine. The Wall Street Journal has the 30 page (!) announcement here, but this London Stock Exchange link is easier to read. Garmin is offering 15 pence per share, which is way up from what we've heard recently (see comments here), and it's waived any further due diligence. There are only two factors that could stop this deal from happening, I think: The displeasure of either Raymarine's board or the U.K. anti-trust regulators. And by being so public with the offer, Garmin is expressing a lot of confidence that both those parties will find the offer acceptable. Maybe it's time to think about a marine electronics world where two of the biggest brands are one...

Here's a portion of the Garmin offer regarding the anti-trust issue:
The Raymarine board has publicly cast doubt on Garmin's ability to secure the necessary anti-trust approvals. Garmin has undertaken an extensive analysis of the potential impact of the Acquisition on the markets in which Garmin and Raymarine both participate. Based on this analysis, it is Garmin's opinion that the marine electronics market is highly competitive and Garmin expects to obtain the necessary merger control approvals in relation to the Offer.

More specifically, Garmin believes that competition from the worldwide market leaders (Furuno and Navico) as well as from other established players (such as Johnson Outdoor, JRC, ICOM, Standard, Koden, Cytech, Uniden, Suunto, Sitex, Standard Horizon, Boeing and others) is significant. It estimates the combined worldwide market share of Raymarine and Garmin to be below 30 per cent and therefore below the level at which competition concerns are typically thought to arise. It is Garmin's opinion that the acquisition of Raymarine will intensify competition in the worldwide marine electronics market and that customers will continue to enjoy, and benefit from, a wide choice of high quality products. Indeed, Garmin believes that the Enlarged Group will provide a significantly improved offering to customers than is currently the case as a result of efficiencies and because the product portfolios of Garmin and Raymarine are highly complementary.


Garmin does not consider that a significant impediment to effective competition arises and therefore expects to obtain the necessary merger control approvals in relation to the Offer. In this regard, notifications are being made to the relevant regulatory authorities and Garmin expects to obtain relevant approvals during the third quarter of 2010.
What do you think?