Mister Fish loudhailer speaker, & the Garmin GHS 10
... written for Panbo by Ben Ellison and posted on Mar 23, 2010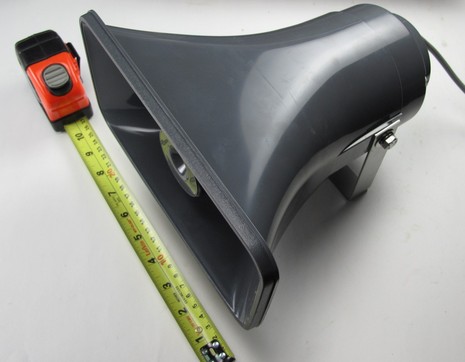 While I may have driven the dogs in my neighborhood slightly nuts, I did satisfy myself that this new loudhailer horn speaker works quite well. Mister Fish Marine Electronics is primarily an online dealer, but this 40 watt, 4 ohm speaker is their own design. The goal was improved longevity and sound over the "inexpensive" speakers while maintaining a reasonable cost, and my first impression -- given the $89 price, shipping included -- is "goal achieved." It feels solidly built and purportedly contains "lubricated internal o-ring gaskets" and all stainless hardware. And the sound is darn good, which I was able to hear in multiple ways thanks to the Garmin VHF 200...

Just as I found that the Garmin's well designed soft key system
makes even somewhat arcane VHF operations easy
, so it was with the "PA" choices under the top menu. Besides "Intercom" and "Hailer" (which includes listening), there's a fog signal choice that leads to either "Manual" mode (which also includes listening) or the many "Auto" modes seen in part below, though on the optional GHS 10 remote handset I've also been testing. Getting around is easier than a written descriptions sounds, and even though the Garmin only puts four watts into the Mister Fish speaker, it seemed loud enough to do the job fairly well (the dogs concur). Plus the speaker doesn't have the tinny quality I've heard in cheaper models.
In fact, I'm going to test this combination further on
Gizmo
this season, and am hopeful that it may even serve as the "manly horn" I
dreamt about last season
.
The GHS 10
, incidentally, is an impressive full function remote, but I do find that screen a little hard to read in some light conditions. In the photo below I have the backlighting and contrast turned up to the max, and the handset is in favorable light. But that's a small font (on a 2-inch display) for a lot of us old cusses, and if Garmin could make it bigger on some screens, that would be a good thing.