Medusa Power Analyzer Pro, & some results
... written for Panbo by Ben Ellison and posted on Mar 4, 2010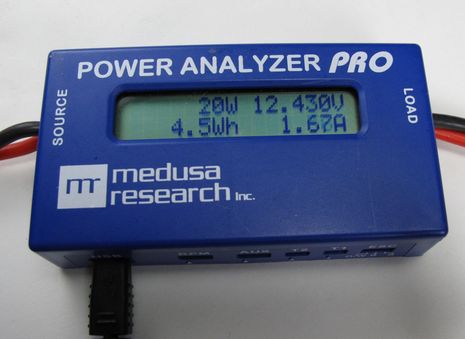 The average boater doesn't need a power analyzer like this, but battery scrooges and testers like me might be interested. This Medusa Research Pro is actually designed for radio control hobbyists but its features and value appealed to my inner geek, and so far I've been really pleased with what it can do...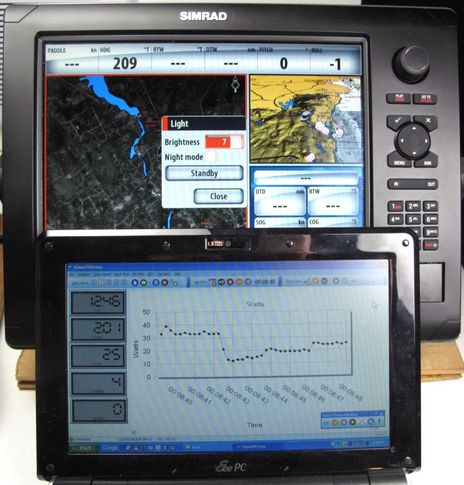 The Medusa, you see, is not only a stand-alone meter but it also has a USB port and comes with a recording and analyzing program. In the shot above I've been recording the power draw of a
Simrad NSE12
for a several minutes but a few seconds before had turned the screen from full brightness down to about 3 and then back up to 7. As you can see in the 8 seconds graphed it uses 34 watts at full 10 and 25w at 7. Interestingly, the Furuno MFD12 below showed very similar numbers, though the NSE is backlit with LEDs. What I can't measure, unfortunately, is screen brightness. Both of these are quite bright, though I think the NSE is a little more so and seems to have slightly richer colors (but that's subjective).
At any rate, this gadget will be useful for testing LEDs, whose manufacturers may be tempted to
exaggerate their efficiency
. I've also already noticed some cases where displays like the Simrad AI50 use considerably less juice when turned down just one notch. I bought the Medusa from PowerWerx with the PowerPole connectors I use already attached and while they don't seem to carry it anymore, they do offer
two similar if less geeky meters
. And for some less exotic electrical measurement tools, do
check out Dan's list
.