Dry Case for iPhone & Touch, gaumy but good
... written for Panbo by Ben Ellison and posted on Mar 3, 2010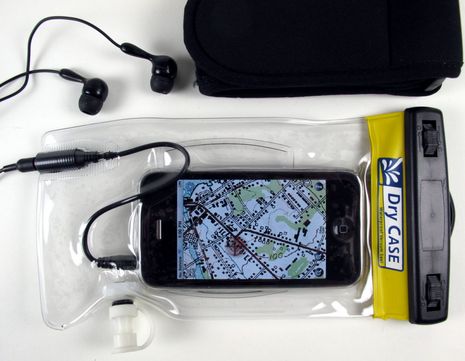 "Gaumy" is great Maine word for something kind of messy or awkward (there are numerous spellings), and it came to mind when I tested the Dry Case above. Its various doodads and fairly large size almost completely suck the elegant simplicity right out of an iPhone or an iPod Touch. However, because you can easily suck the air out of the case, it's not only exceptionally waterproof, but the screen and even the iPhone camera, still work fine, which is more than can be said for the Otter Case also discussed after the break...

The Dry Case not only holds its vacuum -- which is clear proof of its waterproofness -- for what seems like an unlimited time, but if you use that big neoprene arm band shown in the photo, it can't sink. Which is probably what you want if you're risking one of these valuable devices around salt water. And you can even swim or dive with this setup, listening to tunes with those DryBUDS, which sounded good to my ear. Now my personal ideal around-the-water dry case would have the suction valve part of, or close to, the closure mechanism, and would lose the headset complication altogether (I prefer my Bluetooth set anyway), so it could be smaller with the various side buttons easier to use. I quibble, and the side buttons are usable as is, but I hope DryCase designs the iPad case I know they're working on a bit more slim and sleek.
By the way, the app showing above is Fugawi's iMap, which gives you access to all U.S. and Canada topo maps, and a free xTraverse account (useful for many mapping tasks), for $5. Meanwhile, the iPhone browser page below is showing EarthNC Mobile, which offers NOAA chart and weather buoy overlays, and more, for free. The phone itself is in an OtterBox Defender case, which, frankly, I didn't try much before returning. Oh it looks nice, and comes with a great holster, but I found it fussy to put on and then it was hard work the iPhone's buttons when it was on, and the screen protector seemed to dull the image a bit. Besides the Defender is all about bump and scratch protection, and doesn't promise any serious help with water intrusion.