Furuno NN3D, now with C-Maps by Jeppesen
... written for Panbo by Ben Ellison and posted on Feb 3, 2010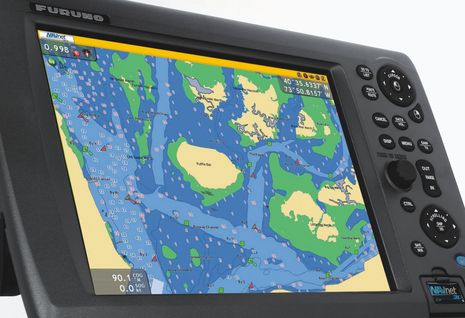 When MaxSea bought Nobeltec from Jeppesen last Fall, there were hints that one somewhat counter-intuitive result might be a new partnership between Furuno/MaxSea and Jeppesen, but I didn't think we'd see results this quickly. Today Furuno announced that NavNet 3D displays will soon support a worldwide portfolio of "C-Map by Jeppesen" MapMedia charts, in addition to the NOAA raster and vector and "Datacore by Navionics" MapMedia charts they already support, thus making them "the most versatile" chart plotters available. It sounds great, but there are some details to note...
The C-Maps we'll see on NavNet 3D displays -- and in
MaxSea TimeZero
, I'm sure, though it wasn't mentioned in the press release -- will not be the
new C-Map 4D cartography package
introduced last Fall. That's because Furuno and MaxSea made the decision a long time back to reprocess everyone's charts into their own MapMedia .MM3 format. That was not necessarily a bad decision as apparently it's what enables the extraordinarily fast and smooth TimeZero 2D and 3D chart presentations. But it does mean that all the extras in a vendor's chart package and presentation engine -- like 4D's POI data, port photos, and automatic routing -- are stripped out. TimeZero doesn't have any of those features now, regardless of chart type (though I wouldn't be surprised if they were in the works).
You may also recall that some users were pretty unhappy with NN3D NOAA charts
when they first came out
. I think those issues were exaggerated, and I know Furuno has made a lot of improvements since (in fact, new "Edition 3" NOAA rasters and vectors, and new fishing charts, were also announced today, and
you can download them now
). But, still, some competitors might justifiably argue with the "most versatile" plotter claim. On the other hand, the core chart data is unquestionably the most important part of any cartography package, C-Map is famous for the quality and coverage of its core data, and Furuno MaxSea is offering a lot of core data choices. Prices for C-Map by Jeppesen MapMedia charts have not been set yet, but the Furuno release says that they'll start rolling out "early this spring," starting with the East Coast and Bahamas. They'll also be demoing them to folks like me in Miami next week.