Iridium 9602 & Inmarsat IsatPhone Pro, oh boy!
... written for Panbo by Ben Ellison and posted on Jan 29, 2010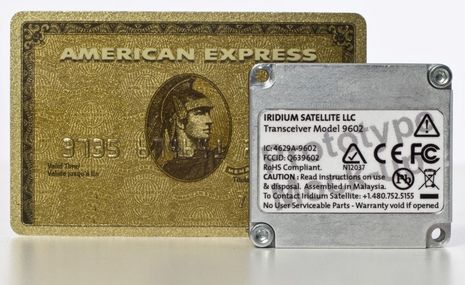 The smaller, cheaper Iridium short-burst data (SBD) modem I heard about at Fort Lauderdale is now official and, wow, doesn't it look able to "disappear into as many marine devices as possible!" It even has GPS input/output ports so that it and the modem can easily share a dual-mode antenna. Hardware and service costs aren't specified but Iridium is claiming that the 9602 will have "the highest value in the industry." I, for one, can't wait to see devices like the Spot Messenger that are global and bi-directional, not to mention what the MFD and marine security/tracking developers might do with the 9602. And I'm glad for Iridium that it's got this and OpenPort going on, because it sure looks like Inmarsat is finally about to attack its dominance in the portable satellite phone department...

This week Inmarsat announced that the first call had been made on its long-talked-about global IsatPhone and that it will start shipping in June. It will have Bluetooth for hands-free use as well as voicemail, text and email messaging, and apparently it contains a GPS as "location data will also be available to the user to look up or send in a text message." The first images seem at least partially mocked up, but still this sure looks like a handset that would make a fella feel like James Bond when whipped out in some exotic locale. Costs may be scary, though, as deduced from Inmarsat's explanation that the "Isatphone Pro is targeted initially at professional users in the government, media, aid, oil and gas, mining and construction sectors."