EasyBailer, a good idea done well
... written for Panbo by Ben Ellison and posted on Jan 28, 2010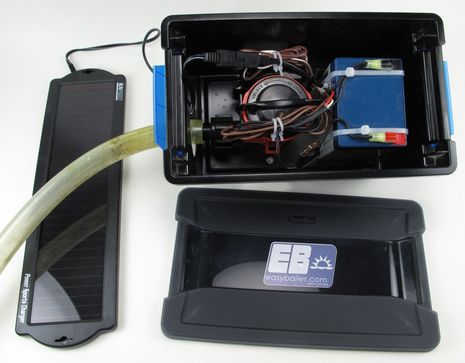 Weird world that it is, I first learned of EasyBailer via Twitter, even though the "factory" is just down the coast. Last week I stopped in and met "CEO" John Bianchi in his shop full of small boats, including an impressive plank-on-frame Rangeley Guideboat he built himself. Thus I wasn't surprised to see how neatly put together his solar-powered dinghy pump is (click above for detail). And I consider myself somewhat expert on this subject as I tried to assemble a similar system myself with poor results...
Yup, the idea of putting a little self-contained electric pump in a small boat you leave tied up is not unique. In fact, there are several examples in my harbor, and they're quite noticeable right after a big rain storm when the rest of us are hand pumping or hauling our tenders onto the floats so we can tip the water out. And, in fact, Bianchi has dropped the idea of a patent since he's realized how many others have tried to gizmo their way around that chore (kayakers too).
But there's the matter of execution. My own attempt worked for about a month before the pump's built-in float switch failed somehow, rain water rose above the motorcycle battery, and much of my wiring, including the standard three-position switch I'd mounted onto my plastic box, turned into green gunk. Bianchi wisely uses a solid state Ultima Pump Switch, which is very hard to foul, and which can be used as a manual switch by simply touching the two sensor spots (you may have to wet your fingers). He also experimented with components before settling on a Johnson 500 gal/hr pump, a 5 amp-hour sealed AGM battery, and a Sunforce 1W solar charger with built-in overcharge protection. He showed me a couple of clunkier prototypes, demonstrated how well the finished model works, and I tend to believe his claim that it will handle a long period of rain and overcast (Lord knows, we had the testing conditions last June and July). At any rate, I now have a sample to test myself next summer, but I'm already fairly convinced that while you could build one of these yourself, it's likely smarter, and surely easier, to get an EasyBailer.