Fusion MS 600 series, the best gets better
... written for Panbo by Ben Ellison and posted on Dec 15, 2009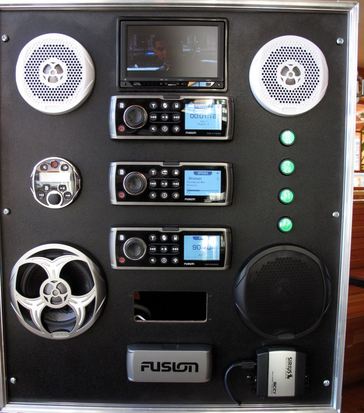 The lighting was tough for photography, but the quiet, sunny Camden breakfast spot was a fine place for Todd Crocker to demo Fusion's latest 600 series of "True Marine" stereos. When Todd visited in 2008, he had the very innovative 500 series to show off, which I later tested myself and then wrote up for PMY. If you check the links, you'll know I liked the MS-IP500 a lot; but I like the new models even more...

Some of the changes are pretty subtle, like going from four zone to three zone support in order to knock a nice chunk off the prices, or improving on what I already thought was a pretty cool graphic zone volume control. Others have more pizazz, like the super fast alpha search of even a highly stuffed iPod, or the ability to ramp down the volume and let your iPhone ring through the speakers (so you can answer it with your Bluetooth headset if it's in a protected Fusion dock, or directly if you're using Fusion's still-hifi accessory cable).
The biggest news, though, is the new $550 MS-AV600 model, which adds DVD playback to all of Fusion MS's other possible sources. Fusion handles the movie audio while both RCA and S-Video outputs send the video to the onboard screen(s) of your choice. The MS-AV600 can't play videos off an attached iPod/iPhone, but if anyone is going to crack that interesting nut, it's probably going to be Fusion. In fact, I can't think of any other stereo company that is putting nearly as much R&D into marine entertainment as Fusion (and, yes, there is an interesting small boat series eventually coming to that empty hole in Todd's big display case). As best I can tell, the only other company that's designed a marine stereo from scratch is Poly-Planar, and while I like
the MRD-70/RD-44 system
that came on
Gizmo
, it doesn't seem like Poly-Planar has yet stepped up to what's possible with DVDs and iPod/iPhone control. Check out
Fusion Marine Audio here
.