Furuno & FLIR vs the pirates, IRIS
... written for Panbo by Ben Ellison and posted on Dec 4, 2009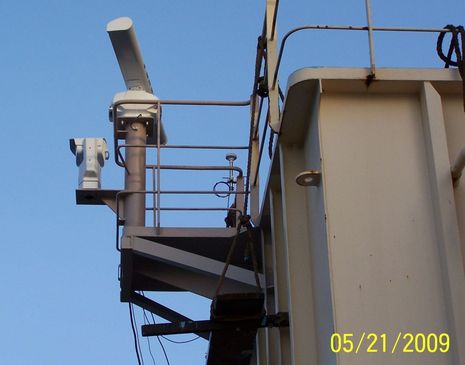 Pirates beware! The Furuno DRS25A Ultra HD radar and FLIR Voyager II thermal camera shown being installed on the stern of the Maersk Alabama are all about keeping a sharp watch for attackers in small boats. And there's another pair at the bow, along with dual monitoring stations within the ship, and lots of redundancy built in...

Apparently Maersk anticipated revenge attacks after several pirates famously lost their lives in the
Alabama's lifeboat last April
. Furuno and FLIR came up with IRIS, an "Integrated Radar Imaging System" that you can see diagrammed below. I'm told it took weeks to string all the necessary cabling through the ship, but also that it's been working without problems since. The concept is to have pairs of networked MFD12 displays and FLIR joystick controls on both the bridge and in the ship's designated Safe Room. The system uses Furuno's "distributed/isolated NMEA2000 backbone architecture" (note the
GP330B GPS
attached to the stern radar's N2K port and there's also an SC30 plugged into the bow DRS), so that if the pirates shoot out one radar system, the other will still provide position information to the rest of the network. (Look for a future entry on this architecture.)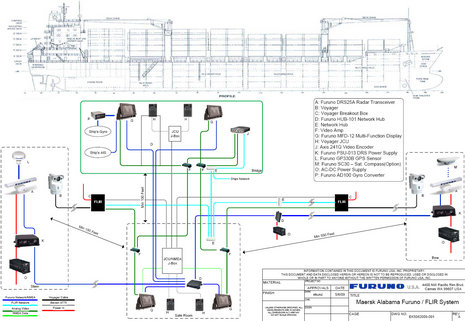 Another feature of IRIS is that it can use NavNet 3D's ARPA to automatically track targets with the FLIR camera. And apparently Furuno and FLIR are working to make this and regular radar slaving (pan/tilt camera to target on command) a feature possible for regular NavNet 3D customers, and maybe even with less expensive
M-Series camera systems
. And, by the way, the
Maersk Alabama
did get attacked again
recently and apparently IRIS helped protect the ship, along with some armed guards.