New Garmin 6- and 7000 series, & Class B AIS 600
... written for Panbo by Ben Ellison and posted on Nov 16, 2009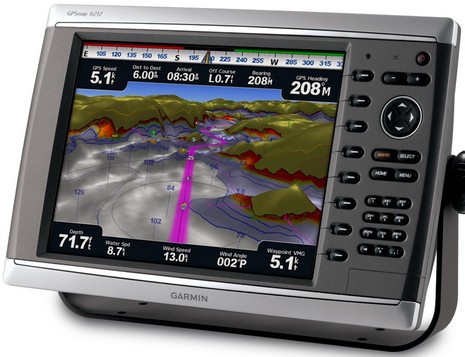 Garmin just announced several new products which will be shown when the doors open at METS tomorrow morning. The 6000 and 7000 series are very much like the successful 4- and 5000 series except that apparently they've got enough processor speed to warrant a new expression for how fast and smoothly they pan and zoom charts -- Garmin G Motion. They've also got backlighting that dims down more than the originals, and backlit keypads. And the big mama 15" touch screen 7012 and 7015, which will retail for something like $7,000, have a feature that's a first for MFDs, I think -- VGA input, so a user can use them as a monitor for a down below PC. Interesting! They also have four regular video inputs, and I'm told that all the new machines can display video input full screen (which was a problem). Though it's not in the press release, I also understand the 6- and 7000 series will have limited distribution, which means they're mainly meant for installer/dealers, a crowd Garmin has slowly been winning over. Garmin's new Class B AIS is no slouch either...

The
new Garmin AIS 600
is quite similar in architecture to
Raymarine's AIS 500
. But whereas it's coming out a little later, I dare say it will deliver all the standard NMEA 2000 AIS PGNs (the Raymarine needs an update to send standard Class B static data) to any device on the boat that can use them. Garmin also claims that its VHF antenna splitter does things a little differently, something called ClearTrack which ensures that all AIS transmissions get out, even if the VHF radio attached is being used to transmit. Plus Garmin is already well along with excellent integration of AIS, MFD, and VHF, as I've been
seeing with its VHF 200
. Garmin's IMO-like method of displaying AIS targets as active and inactive is also good, I think, and they'll let you
see them in futuristic 3D too
. And as of the recent software update 5.4, they're dealing with the over enthusiastic alarming problem too. I think they even added an MMSI input field so that Garmin MFDs can understand that N2K attached Navico (and Simrad) transponders are not dangerous targets, even though Navico's technique for that is non standard (because the NMEA slow pokes hadn't finished the standard yet). At any rate, if true (as
Bill Lentz seems to report
, and I will check it out), that's an unusual but very consumer friendly move. The entry Bill commented on, by the way, is all about Garmin's great track record for software improvements. So true.
So, hey, are any Panbots walking the floor of METS tomorrow, maybe checking out the new Garmin G Motion, maybe taking in the
Dame Awards
? Please consider a guest entry for those of us not in Amsterdam tonight (email ben.ellison at panbo.com.)