MaxSea Time Zero, live at last
... written for Panbo by Ben Ellison and posted on Nov 13, 2009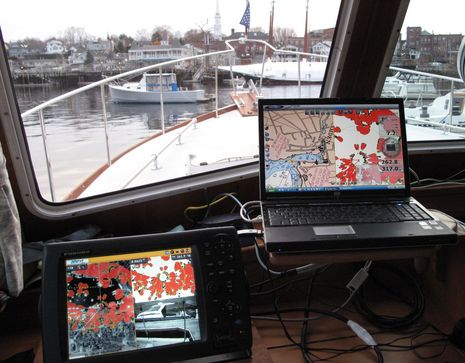 It took Furuno and MaxSea quite a while to actually ship Time Zero software in the U.S., and it took me a while to clear enough disk space to load it on that oldish HP laptop, but the long wait did not end in disappointment. My first impression is that TZ charting and radar run beautifully, and with amazing responsiveness even though the laptop barely meets the suggested minimum specs. The photo above is also another testament to the DRSD2's close range resolution; not far beyond my bow you can see the two boats on floats and shrink-wrapped schooners that are being cleanly targeted. And don't presume the GPS is off because Gizmo seems to be ashore...

A couple of years ago,
Wayfarer Marine
did a lot of dredging to create the slip I'm mooching right now, and neither the charts nor photo maps have caught up. In fact, there's an awesome 40' Predator tied up
behind
me, as you can see on the MFD12 screen, thanks to a
Raymarine Cam100
mounted under the extended cabin roof. All the MFDs on board can display its output, which is useful for monitoring the blind spot aft I normally have from the flying bridge. Forget how
Gizmo
is laid out? Well, then I have a good excuse to put up another picture of her loveliness, taken at 4:30 this afternoon. Have a nice weekend.