Lowrance StructureScan, hands on #1
... written for Panbo by Ben Ellison and posted on Oct 15, 2009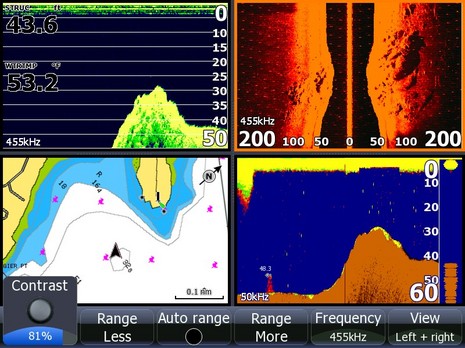 On Monday I spent a few hours cruising around the Harbor and Bay with Lowrance's StructureScan module attached to an HDS-10. Impressive! This upstart seemed to image the bottom as well as the Humminbird 1197C I was also running, and Humminbird has completely owned this niche for years. Lowrance's side imaging also seems easier to use. Humminbird SI, for instance, doesn't have an auto range feature that adjusts the displayed bottom width (and resolution) according to the depth, nor does it have the useful soft keys seen above. They both work pretty well, though, and the more I use them, the more I think they're valuable to fisherman and even cruisers...
I ran out to where it's about 100' deep, but the bottom was pretty darn dull (or the side scanners weren't seeing well). I got a kick out that rocky ledge shown on the screen above, though. It shows as just a 25' hump on the NOAA charts (and isn't well presented on that Navionics chart at this zoom level). I've been boating over this bottom for 40 years and didn't know that much of it is quite smooth, with an occasional ledge like this. It would be valuable information if I was fishing or trying to anchor around here (or
trying out underwater cameras
).
I have to say that I'm not finding Lowrance's exclusive "down scan" view of the high resolution pings all that useful. You can see it in the upper left window above and upper right on the screen below. It does give some nuance to the similar sonar view, but you have to get right on top of something to image it. I tried to get on top of that interesting cross seen lower left below -- possibly a couple of railway ties or tracks from an old ship hauling ways -- but failed. Besides, Humminbird has already announced its own free upgrade to down scanning. Another thing of note on the screen below is those blue bars beside each window. I recorded a lot of StructureScan info -- including the present lay out of all the Inner Harbor mooring stones -- and can play it back on the HDS, even adjusting settings and display windows. The Humminbird has a similar feature, though I've been having a little trouble with the recording causing the side imaging screen to freeze or stutter. I may need to adjust some settings, and, by the way, the 1197C does give you a bit more control of imaging enhancements. More to come.