Cable ties, Cobra & Velcro
... written for Panbo by Ben Ellison and posted on Oct 22, 2009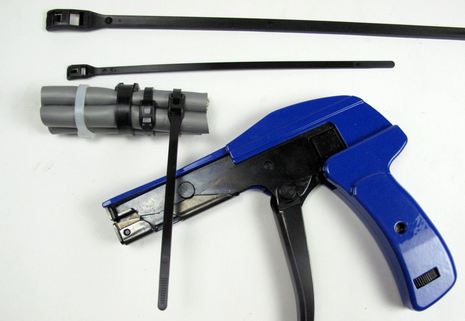 Does too much fantasizing about the electronics future make you too want to jump back to the practical? Well, how about cable ties! I've used several hundred of them in the last six months, and cut a hundred more, and have some opinions. For one thing, I'm grateful to the Cobra cable tie company for sending me samples of their unique low profile design, because it works great. The material and ratchet mechanism are strong, they look tidier than regular ties, and -- most important, I think -- you, or someone working on your boat at a later date, will not cut their hand on a sharp plastic snag. You can tighten and trim Cobra ties OK with a wire cutter, but that Eclipse tool works slick (and slightly better than the Ancor version I already had, in my opinion). Cobra ties cost a bit more and don't seem widely distributed, but the company sells direct (though penny pinchers may want to go elsewhere for the tighten/trim tool).
I also like hook and loop ties...

Admittedly I install a lot of gear temporarily, so reusable Velcro ties make particular sense. But, man, they're easy to use (no tools), stronger than you might think, and the Cobra "no bumps, no snags" motto certainly applies. I like the thin Velcro brand half x eight inch ties
seen below and also Cables To Go 3/4 inch
, which is the thick stuff wrapped around the gray cables. It comes in 25' rolls and is quite rugged. Velcro ties will never be as tight and permanent as plastic ties, but they work, and are particularly good for adding cables to an already well secured run. I've also had good luck using Velcro Sticky-Back
to hold sensors, a laptop, and, yes, even a radome in place. Temporarily.