C-Map is back, in many dimensions
... written for Panbo by Ben Ellison and posted on Sep 3, 2009
Actually C-Map never went away. But it has been fairly quiet since becoming part of Jeppesen Marine in early 2007. Oh there was scuttlebutt about how Jeppesen resources meant vastly improved data acquisition and distribution capabilities, not to mention evidence of zero error tolerance. And C-Map MaxPro cartography came to Nobeltec charting, though sadly many remember the event more for a dumb raster chart policy than, say, MaxPro's slick Quick Sync data updating. Meanwhile, arch rival Navionics worked its way into more and more displays. But things change, as certainly happened on Tuesday when Raymarine previewed E Wides, which will come C-Map preloaded and also support a new format C-Map calls 4D...
4D's fourth dimension is time, a reference to a yet undetailed "constant" updating program that sounds a lot like MaxPro's Quick Synch. But 4D goes the other way with rasters, letting an E-Wide join Furuno NN3D as the only current MFDs able to display, even 3D, official NOAA raster charts (I don't think
Faria's Maestro
ever shipped, to my embarrassment).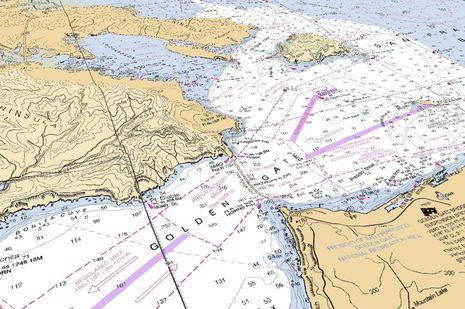 I'm liking what I can see of 4D's 3D abilities in these promotional screens, particularly the one below which seems almost unbelievable in terms of tight registration between hi res photo and chart detail. It also seems to include
custom C-Marina data
, a great idea that I keep hoping other cartography companies will adopt. Isn't easier than ever for marinas to map their facilities accurately and pass the info to the chart companies?
Of course 4D also has 2D vector charts, with or without terrain relief, live tides and currents, etc., as suggested below. And I hear, by the way, that 4D is not exclusive to Raymarine and may appear on other platforms eventually. But I'm looking forward to seeing it in action on an E Wide and am thinking that it's time to take a close look at all the available chart formats. If I can ever finish the radar testing (swapping in two more radomes in the next few days!), all the attached displays (and PC) will make
Gizmo
quite the cartography test platform.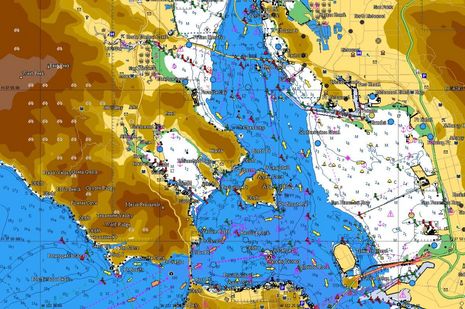 Comments
Posted by: Skipper150
at September 4, 2009 8:24 PM | Reply
Posted by: Anonymous at September 5, 2009 12:46 AM | Reply
Posted by: Zipan at September 16, 2009 3:26 PM | Reply