Alba Analog Adaptors, the screenshot show
... written for Panbo by Ben Ellison and posted on Sep 11, 2009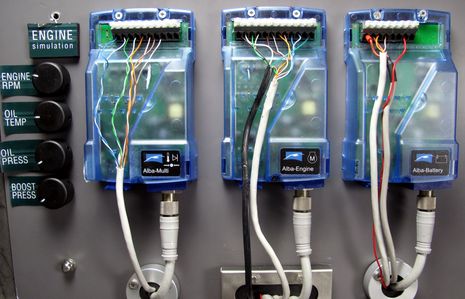 NMEA 2000 has been working well on Gizmo this summer, making it easy to get heading, wind, depth, GPS, and more to all the MFD systems I've been testing. AIS over N2K has some issues, but then again the Garmin VHF 200 is good evidence of what's possible. However, I've just begun to explore how NMEA 2000 can integrate Gizmo's engine, tanks, batteries, and other non-navigational systems. A few weeks ago, for instance, I plugged an Albatross demo case into the boat's backbone to see how data from those three Analog Adaptors above would display...

The results were fairly interesting. Every MFD developer is at least attempting to display some basic engine and fuel tank info, though it's probably not a high priority yet. Lowrance HDS seems the most advanced, which makes sense as several outboard models now output NMEA 2000. I think the
new Simrad NSE
has the same data display abilities as HDS, and the Furuno NN3D MFD may be able too, though I didn't have either installed when I took the
screenshot show represented below
.
I hope to actually install at least one of the Alba Analog Adaptors eventually, though I suspect the calibration is not trivial, as
discussed in the original entry
. But
Albatross Control Systems
does have U.S. distributors now, which may help. I also hope to try some of the many new Maretron system sensors, and am excited that
its J2K100
might
access digital info that's already in my older but somewhat electronic Volvo TAMD74CA EDC diesel, but which I can't see (like fuel flow). If it works, Gizmo can have the fuel management
I checked out last summer
. Fingers crossed!