Humminbird downrigger control, really different
... written for Panbo by Ben Ellison and posted on Aug 15, 2009
I could easily write a dozen more entries on 18" radomes, AIS, NMEA 2000, and iPhone apps, but how about something completely different? I received and bench tested a loaner Humminbird 1197c this week. My plan is to check out its side-scanning abilities, particularly now that Lowrance is challenging its dominance in this niche. But I couldn't help but notice the rather amazing downrigger controls shown in the machine's demo mode. The screen above shows one of three downrigger pairs being automatically positioned 5 feet off the bottom as my simulated boat trolls a wavy bottom. And there's much more...

For instance, another downrigger or pair can be made to "cycle" up and down at a specific depth and speed. Or a user can just manually control his/her baits or jigs from the MFD. Not surprisingly, this "fishing system" only works with certain Canon downriggers, and a special interface box, all developed by Humminbird's parent company Johnson Outdoors, but still have you ever heard of a plotter managing anywhere near this level of mechanical activity? And now that you have, what else could an MFD do?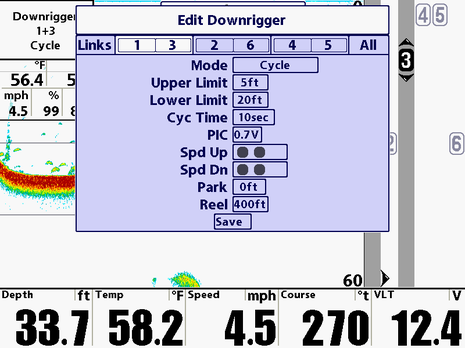 The 1197c also seems to pleasingly fast, and loaded with interesting features. Below, for instance, is the best sonar recording and screenshot display (and management) page I've seen on any MFD (and, thankfully, they almost all at least do screenshots these days).