18" radome testing, part 2
... written for Panbo by Ben Ellison and posted on Aug 12, 2009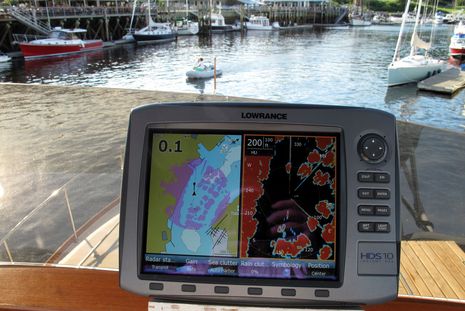 Man, this radome testing is getting complicated. I had kinda presumed that the Navico Broadband BR24 would be obviously superior to other 18" scanners. But, as discussed recently, the Raymarine RD418D kinda torpedoed that presumption. While I doubt that any radar can target a moving dinghy and two sailboats on a float at 100 feet as cleanly as you see above, there is a lot more to radar than super near range. The inflatable, incidentally, dissappeared when it got nearly alongside, but that situation may change when I move the BR dome down to flying bridge level. And then I'll also have two radar mounts available for testing 18" scanners from Garmin and Furuno...

Those tests remain to be done, but here's a look at some comparisons between the Navico and Raymarine domes at 1/8th and 3 mile ranges. This first pair was taken in Camden's Outer Harbor channel, in nearly the same place recently shown on Bruce Kessler's 4' Furuno UHD and on the BR24 when mounted just 5 feet off the water. My photo is unfortunately blurry, but it does show how a higher Broadband can still target those low round channel marker pairs, or at least at about 300' (1/16 nm = 375'), and how well it separates targets within that 1/8 mile circle. There have been many days this summer when this resolution in this spot would have been very comforting. (Incidentally, the C-Map card in this Simrad NX is two years old; a newer one would indicate the channel better.)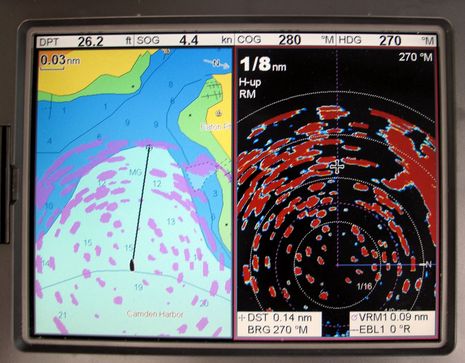 Now below is the RD418D at the same scale and in the same channel. Close in targets are certainly more blown out, and range resolution more uncertain, but this performance level would still be darn useful in thick fog. When you range up from here through the very useful 1/4, 1/2, 1, and 1 1/2 mile scales the performance gets more similar, and then the comparison starts swinging the other way...

Below, for instance, is the BR24 as seen on the Simrad NX45 at 3 nm range. The bold islands 2 miles ahead are painting well, as is the buoy a mile off our starboard quarter. But I believe some closer targets are being lost at this range, plus you can see an intermittent interference spoke as mentioned in the earlier entry, only now I've got the radar set for maximum interference rejection.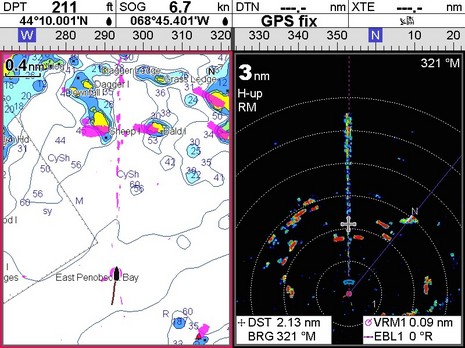 Comparing that screen to the C140W below is somewhat unfair, as the latter has lots more pixels to work with, and also scales its radar window differently. Those are one mile rings on the Simrad above versus 1/2 mile on the Raymarine below. But you are beginning to see the RD418D's 4kw power come into play, which gets more emphatic as you range out from here. You can also see MARPA in action, which is not available on either the NX or HDS (though I imagine a BR24 supports it pretty well). Then again, the radar below is using 40 watts versus 17 above. See what I mean about complications? More soon, but I've got installation chores first.