Imtra PowerLEDs, & greening Gizmo
... written for Panbo by Ben Ellison and posted on Jul 13, 2009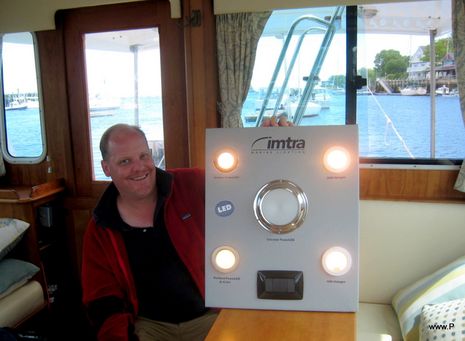 That's Eric Braitmayer, Imtra's marketing guy, and he's got lots to be happy about. The years of having to carefully explain the relative pros and cons of LED and halogen marine lighting are over. He's confident that the Ventura PowerLED upper left is as bright as a similar size 20 watt halogen fixture while being fully dimable (without RFI issues), much cooler, and much, much more power efficient. In fact, Imtra is phasing out of halogen lighting altogether, and recently announced significantly increased LED sales despite the 'downturn'. In other words, lots of boaters and boatbuilders apparently agree with Imtra that LED technology has advanced beyond the confusion area. Not that I would just go buy any old LED...

One thing I've learned from talking with Eric and others over the years is that LED has been a rapidly changing technology, and that fixtures and/or replacement bulbs that seem similar may not be. While most any LED, even inexpensive Ikea light strings, can be a benefit aboard a power constrained boat, getting a fully satisfying, and long lasting, lighting system may not be easy. Eric, for instance, is not very bullish on replacement bulbs, though Imtra was a winner in the Practical Sailor bulb test you can download from Sailor's Solutions. He argues that dedicated fixtures are much better at managing LED heat and mazimizing LED light beams.
At any rate, Gizmo, though only nine years old, is full of especially inefficient incandescent light fixtures (see below), and has not been plugged into shore power since I brought her to Maine. I'm very interested in LEDs! So I'm going to try everything I can find in terms of replacement fixtures and bulbs, and will be on the look out here at MAATS show in Orlando, Florida (where I'm playing da judge again).