N2K wind #1, Gizmo testing begins (update)
... written for Panbo by Ben Ellison and posted on Jun 4, 2009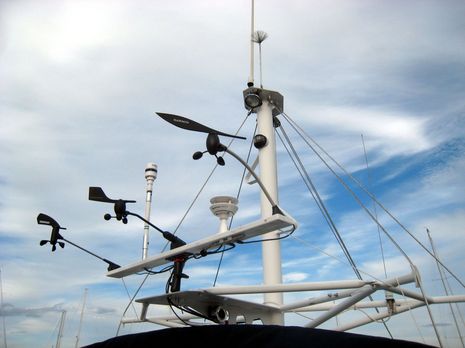 Yes, this rig is raising some eyebrows around Camden Harbor, but I think it will teach me more about NMEA 2000 wind sensors than I've been able to figure out in the lab. I've got all five cabled to the test instrument panel as well as a MFD or two and Gizmo's laptop. And you can see that I can at least theoretically simulate sailboat mast heel and motion thanks to the Ram Mount. I'm not expecting to get wind-tunnel-accurate results here, but it should be interesting. Don't hesitate with suggestions on how to use this rig and what to look for; I should be online much of the day, and may even update this entry from the boat. Good times...

Note, as
mentioned the other day
, how stripped
Gizmo's
mast is. Pretty soon I'll need to figure out how to fit a changing variety of radomes, comms antennas, and other hardware. Do I need to keep that "lightning dissipater"? (Some
say they work
, some
say they don't
.) Can the VHF, AIS, WiFi, and cellular antennas perform well at the spreader level, or should some be at the mast head? Any suggestions for a manly horn to replace that sickly electric one now mounted under the radome platform? How the heck did I end up with a mast this cool? Later...
I spend a few very pleasant hours on the Bay with the N2K wind rig (and my buddy Max), but a fair bit of that time was used up getting the instruments to each display a particular sensor's output, making sure the calibrations were at default, and double checking angle-to-boat offsets. Once we could see all five sensors on side-by-side displays, the notable thing was how very similar they performed in a variety of true and apparent wind conditions. And I did go up the mast and manhandle the sensor board. I'm going back out early tomorrow for more testing (and screen photography), but I'm beginning to think that the important differences amongst these sensor/display systems have to do with installation details, ease of use and calibration, display preferences, etc. And of course they all put their data on the N2K bus, which is a good thing. Tomorrow...