iPhone mania, a marine app slide show
... written for Panbo by Ben Ellison and posted on Jun 10, 2009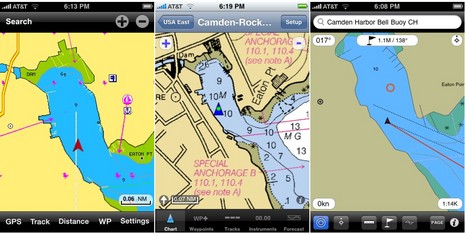 So there's a new iPhone,
the 3G S
, and some of its new features -- like a built-in compass, voice commands/feedback, and a much faster processor -- will no doubt benefit marine navigation applications. But I've been trying the major existing apps (thanks to a loaner 3G from Navionics), and can tell you that they're pretty seductive as is. None is perfect by any means but the three above -- Navionics' Mobile Gold, GPSNavX's iNavX, and Navimatics' Charts & Tides -- each has some interesting features. And I've assembled a super duper screen shot slide show to illustrate...
In fact, I got a bit carried away with the screen shots, and also figured out a new way to put them up on Panbo, as you can see below.
The slide show is live here
. I'm sure I missed lots of details in these programs, but hopefully commenters can fill in. I'd also like feed back on the image gallery, please; does this work better than the straight Picassa albums I've used recently (like the one at the bottom of
this Lowrance HDS entry
)?