Broadband Radar now shipping, installs neatly
... written for Panbo by Ben Ellison and posted on Jun 16, 2009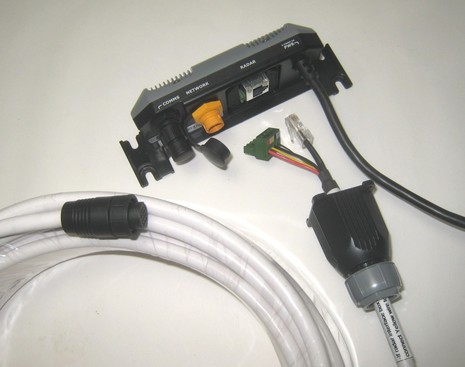 Navico Broadband Radar is apparently meeting its promised "Q2" shipping schedule, and I'm already impressed with the install details. Above you can see how a waterproof gland fits over the scanner cable -- which is just a bundle of Ethernet and power wires -- before it's screwed to the interface box. If the ultimate destination is a Simrad NX or a Northstar 8000i, you then run a proprietary serial cable to the 'comms' port, while Lowrance HDS units use a proprietary Ethernet cable to that orangey 'network' port. It all went together quickly and feels solid...

Actually if your HDS unit -- or other Broadband Radar compatible hardware/software (hey, we can dream, can't we?) -- is already connected to an Ethernet hub in a dry area, you can dispense with the interface box altogether; just plug into the hub and feed the power wires (yellow is for on/off) 2 amps of 9-32 volts. More installer-friendly details are shown below: you don't need to remove the radome cover to plug in the cable, and the built-in loop provides both strain relief and some working slack (Furuno uses a similar scheme on its
SC30 GPS Compass
, testing on
Gizmo
soon).
I did connect the radome to
the HDS-10 on Li'l Gizmo
, but it's sitting on its trailer in front of the lab, so I haven't yet seen realistic target imagery from a finished Broadband Radar (and that may take a few days). But I can tell you that the powered-up scanner is pretty quiet and hardly vibrates even when not bolted down; and also that the HDS has a straight forward radar install routine, as well as many more radar features than we saw during the February demo. Finally, I've come up with a new Panbo motto: "Too many
Gizmos
, too little time."