Skipper (FB) 150, & a Panbot gets into the biz
... written for Panbo by Ben Ellison and posted on May 18, 2009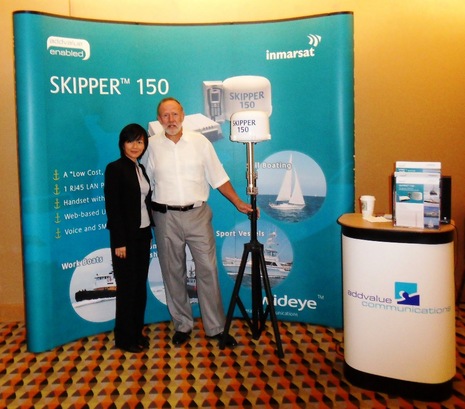 Some of us got confused last week when Inmarsat introduced its tiny but fast Fleet Broadband 150 Internet & voice service in Miami. While Inmarsat boasted about "sub $5,000" terminal hardware, KVH said it couldn't price its TracPhone 150 yet, and a source told me he'd seen a Sailor price list that put its FB150 hardware at over $5,000 wholesale. What we missed was the $4,995 retail FB150 terminal that's coming from new-to-retail Addvalue Communications. Fortunately, Ronald Hiemann -- who sometimes comments here as "Seajet" (his company) or as "Bremer Speck" (his boat) -- was able to fill me in on the Wideye Skipper 150. His story begins thusly: "Once upon a time, there was a sailor who wanted Internet access at sea on his sailboat..."

Ronald, you see, was just looking for a good way to replace his
troubled Globalstar phone/email system
for when he joins the
Marion Bermuda Race
this June. Well, he was the first end user to contact Addvalue about the Skipper 150, and one thing led to another: Ronald is going to test a prototype unit in the race, and plans to become a Skipper 150 dealer when the units start shipping in July. He says that the antenna and BDU (below decks unit) were developed under an Inmarsat contract and function the exact same way the Thrane & Thrane gear does. And he reports that Addvalue has plenty of experience with sat com technology and that they plan to set up U.S. distribution centers and a simple overnight replacement program in case there are gear problems. I look forward to communicating via Inmarsat with Ronald during the race.
Meanwhile, after watching
Visions of Joanna
exit Block Island Sound via AIS early Saturday morning, I've been emailing with them as they work their way toward Cartegna, Columbia, and eventually New Zealand. You can follow them, too,
via their blog
, but note that the YotReps widget isn't working right...just click on the "enlarge" link. They don't have all the kinks worked out of the Iridium OpenPort up on one spreader, either, and have been using Globalstar for email. "I have not yet gotten Openport to allow a connection via X-Gate and don't have any other pop based e-mail clients set up so the only option would be webmail and that would add up the MB's quickly" Gram reports, but adds "We have used it for voice a couple of times and the quality is EXCELLENT (a touch better than Globalstar in voice quality and no lag with either)."
It's very cool that VOJ's other lower spreader is all wired for a test
KVH TracPhone FB150
that will go up there when they reach Panama (hopefully). Gram will have lots of time to compare the two services when they head across the Pacific. Between Gram and Ronald -- and who knows what Dan will test next -- Panbo is going to benefit from a lot of real world Panbot testing this season. And, heck, any day now I may stop yanking old cables out of
Gizmo
and putting new ones in ;-)