Ode to Garmin updating, especially MarineNet 5.0
... written for Panbo by Ben Ellison and posted on May 11, 2009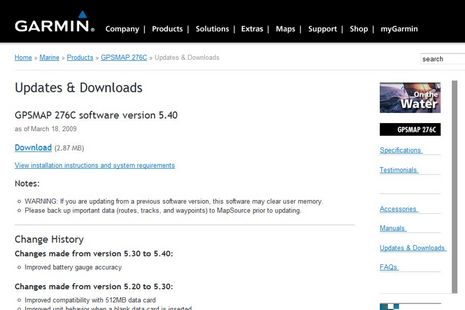 Lucky me, I have an amazingly bright and progressive plumber who is also a seriously addicted boater, and sometimes we barter our respective skills. Which is how I found myself tuning up and updating his old GPSMap 276C last week. I was amazed to discover that Garmin's latest update for it was just released on March 19; it's a minor update, to be sure, but this unit has been around since 2004 (when
I gave it a prize
). And so I planned an entry complimenting Garmin on its perfectionistic persistence...but that was before I saw the just-released 5.0 software for the networkable 4- and 5000 series. Wow...
Garmin even has a
special web page for the 5.0 update
, and has the right to be proud. I've only checked it out for an hour or so in the lab, but, nonetheless, spotted a phenomenal number of feature and performance enhancements. In the screen shot below, you can see how the 3D view now very usefully includes spot soundings and bathy lines -- even, as shown, with the built-in charts alone, no g2 card in use. Plus you can see how many menus items now include status switches or windows (which were
first seen on the 640
and which greatly reduce key punching).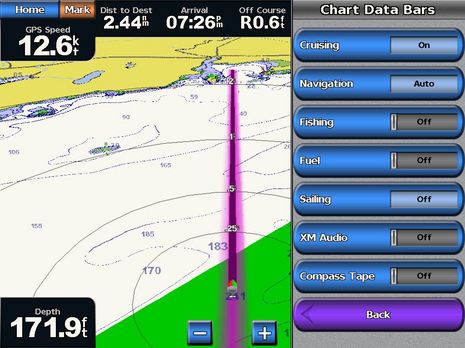 And how about the AIS target detail screen below. For one thing, there's the
"sleeping" and "active" language that the IMO favors
(and I'll bet IMO target iconagraphy has also been adopted). And, look, there's the call-target-with-DSC-VHF feature we've been pining for here. I plan to do lots more 5.0 testing, but I'm already willing to give Garmin a gold star for constantly improving existing products.