Class B rollout, looking better, but mysterious
... written for Panbo by Ben Ellison and posted on May 21, 2009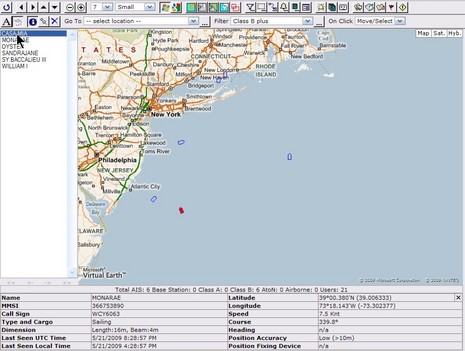 Ever since I realized that the free Siitech.com AIS pro web viewer can count and/or filter AIS types, I've been using it occasionally in an attempt to gauge the spread of Class B in the USA. You may recall the day last October when my Li'l Gizmo was the only Class B to show up on the whole East Coast (or at least within range of a certain mix of listening towers). And, frankly, I haven't seen many B transponders in US waters since then...until today when there were six in the general New York area, almost all underway. And, surprisingly, some were being seen well offshore, in fact way offshore...
This was no fluke either; I just checked the viewer again, seven hours later, and three of those offshore Class B's are still out there, including the sailboat furthest out. This is mysterious. I was just developing the opinion that the various
online AIS viewers
would naturally tend to under count 2 watt Class B transponders because their shore antennas were generally arrayed for 12 watt Class A ranges (and also because Class B type boats are much more likely to shut down their transponders at the end of a voyage). And I've seen this locally; a Class A transponder outside Camden can be seen by the Pilots' distant antennas but so far Class B doesn't show up. So now I'm wondering just what receivers (and how high) are providing these feeds to Siitech, or is a satellite involved somehow? Below is a zoomed out view with Class A turned back on (you can still see the B's by their icon shape). Note how far away the Jacques Jacob is. What's going on here?