Raymarine AIS plotting, "buddies" & more
... written for Panbo by Ben Ellison and posted on Apr 8, 2009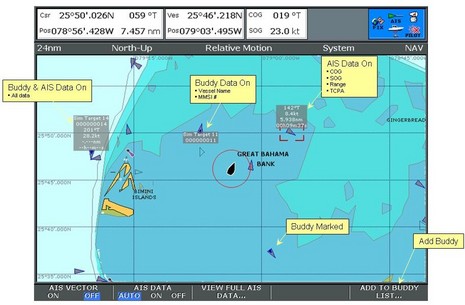 If I understand the timing correctly, about when Raymarine starts shipping its new AIS 500 Class B transponder in May, it will also offer software updates for A, C, E, and G Series MFDs that provide some AIS plotting improvements. On top of the list is "buddy tracking", which I consider a valuable feature, though the term -- used by several manufacturers -- is a bit misleading. The idea is that when you see an AIS target that you might see again, and care about -- be it a friend, or a local fishing boat that sometimes seems like it's driven by zombies -- you can save its name and MMSI in a little database kept by your MFD or charting software. Then...

Whenever that saved "buddy" is picked up by your AIS receiver or transponder again, its target icon is highlighted to let you know it's a familiar vessel. And if you have your target plotter set to show vessel names -- or if you query the target -- the buddy's name (and maybe other static data) will be there instantly, because it's in the database and hence your receiver doesn't have to wait up to six minutes for the target to transmit the AIS static data message. Ray's buddy feature should work with any AIS target input, but I'm not so sure about the AIS status icons seen on the screen below; i.e. I'm not sure that a Raymarine MFD will be able to tell if another brand's Class B transponder is in silent mode or not. But I am sure that lots of boaters currently using AIS on Ray MFDs will be pleased that they're apparently cleaning up their AIS alarms.
I'm also glad to see that the AIS 500 manual is already up. This is one versatile Class B, though I did notice that the VHF antenna splitter loss values are "Receive: < 4 dB" and "Transmit < 1 db" and the manual warns that users will hear a slight interuption when the transponder transmits. (I think antenna splitters are best used with a backup VHF.) Comparing the install instructions on how to best use the two four-wire plugless NMEA 0183 "ports" (one regular speed and one high) versus how to use the SeaTalkNG port (just plug it in!) is another reminder of how worthwhile it is to switch your boat to NMEA 2000. But I did hear in Miami that Raymarine had to write a proprietary PGN because apparently NMEA is just now adopting its standard AIS PGNs to include good old message 24. (Ray said they'd drop the proprietary message as soon as possible.) I've yet to see AIS targets coming in over NMEA 2000, but am looking forward to it, as well as a rapidly growing number of Class B targets in the USA.