NMEA 2000, power "problem" part 2
... written for Panbo by Ben Ellison and posted on Mar 18, 2009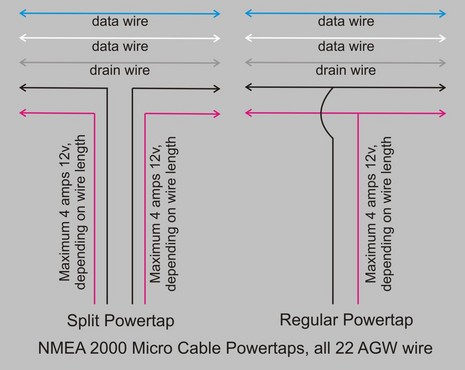 I think I got this diagram right, and I think it's important to understand if your boat might end up with more than a few NMEA 2000 powered devices on its network. As discussed on Monday, the popular 'light' (or Micro) size NMEA cables only contain 22 AWG power (and data) wires. Its well insulated power wires are apparently perfectly safe (despite some internecine standards organization hubbub on that score) but they simply can not carry much DC juice very far. Electrical resistance is dependent on wire size -- DC especially so (hence the fascinating "War of Currents") -- and the few DC wire tables that even include 22 guage don't look good. Which is why some manuals, like Garmin's below, go to some trouble regarding powertap placement...

The diagram below, found in Garmin's NMEA 2000 Fundamentals (
PDF here
), usefully illustrates a fairly modest N2K network that will suffer too much voltage drop at one end. Garmin goes on to show how the situation can be fixed by putting the powertap in the middle of the backbone and thus halving the effective wire runs. Not mentioned, but even better, are the split powertaps available from Maretron and elsewhere (Furuno and maybe Airmar, I think). With the split design you get two pairs of 22 AWG power wires each able to supply up to 4 amps to the backbone leg they feed. They can be switched separately, too, which might be useful if you want to leave certain devices on (GPS for security system?) and can relegate them to a particular backbone leg.
A split powertap can also be used to feed a third leg of a N2K backbone (with the wire pair headed toward the already powered leg taped off), as long as all taps are led to a common ground. That could be especially useful if you want to add something and realize you don't have the proper juice available. But isn't smarter to start with all the backbone power you can reasonably fit and afford? While 8-amp-per-leg Mini size NMEA cable is almost as thick as a garden hose, and very expensive, it looks like Maretron's Mid size cable, which has regular Micro connectors, wouldn't add a shocking cost to a backbone, if
any
. (Here's a quick Google comparison:
Maretron 10 meter Mid
vs
Garmin 10 meter
vs
SimNet 10 meter
vs
SeaTalkNG 5 meter backbone
). Mid is only rated for 4 amps, like regular light cable, but its 16 AWG power wires result in much less resistance (4 Ohms versus 18 for micro wire) and hence much friendlier voltage drop calculations. Even on a small boat, a split powertap located near the load center of the backbone seems like obvious and
relatively cheap
future proofing.