iPhone nav, forward in many directions
... written for Panbo by Ben Ellison and posted on Mar 19, 2009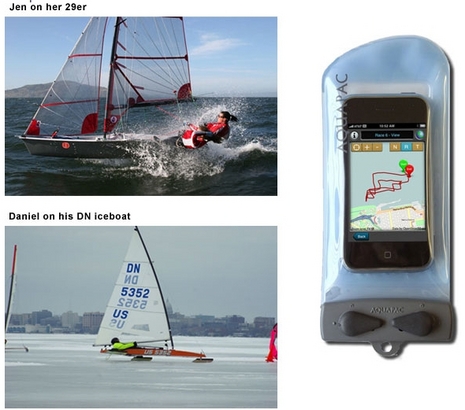 Thanks to the April editon of Sailing World, I now know about the interesting and nearly free iPhone app MotionX-GPS. It's more a GPS than a plotter, and not specific to boating, but, as you can see above, it's got some boating fans. MotionX purportedly uses the iPhone's accelerometers to improve GPS performance, it supports open source mapping, and it was developed by a company founded by well known competitive sailor/geek Philippe Kahn. Unfortunately I can't try it on my iPod Touch because the it has no internal GPS, and no way to attach one (darn you, Apple!). But there are some iPhone marine apps I am trying, or will soon...

I've been using the U.S. East Coast version of
Navionics Mobile Charts
for a couple of months now, and it's getting rapidly better, as shown in my screen shots below. The charts themselves have always looked great, and zoomed/panned with reasonable speed, but recently Navionics has added the Safety Depth control (which nicely highlighted the bottom situation around the marina where
the future Gizmo
may now be hauled), not to mention simple A-B measurements, and a much improved search facility. Best of all, the problem of touch picking objects of interest was nicely solved. Now tapping anywhere near, say, that "1A" nav aid gets a list that includes it and everything else nearby. Marinas don't have phone numbers, but buoys do have characteristics. Now I don't have Navionics Mobile running with a GPS, and thus may be missing something, but I don't think it does much more than a simple plotting right now. I also gather that the iNavX relationship
I once wrote of
didn't actually happen, but that Navionics intends to add many charting features to this program. I'm sure those easy iTunes software updates will keep coming.
Meanwhile iNavX is working with Fugawi whose new
X-Traverse service
makes it possible to share data --- waypoints, routes, and certain charts --- between
iNavX on your iPhone
and MacENC on your Mac (now also
distributed by Maptech
) or
Fugawi Marine ENC
on your PC. In fact the X-Traverse servers are capable of doing all sorts of data sharing that the iPhone is not friendly about (if app developers participate) and Fugawi is also making deals on cartography it can distribute via the same service, so far mostly topos but they do have
some Canadian lakes and Swedish charts
.
I think I can try iNavX and X-Traverse on my iTouch, and intend to, along with Navimatics (and thanks to the latter two for trying
MadMariner's new Panbo ad program
). But really I should have an iPhone with its included GPS, which led me to trolling eBay this morning for used ones. Yike, even old 2G models with cracked glass faces are hot sellersl there! And I also need a Windows Mobile phone to check out the latest version of
Active Captain Mobile
as well as
Memory Map's new QuickCharts
(just insert SD card and the program and charts are ready to go). Oh, and it will be interesting to watch the
iPhone 3.0
and
nuviPhone
battle out turn-by-turn car nav. Yi!