Garmin GWS 10, hands on #2
... written for Panbo by Ben Ellison and posted on Mar 9, 2009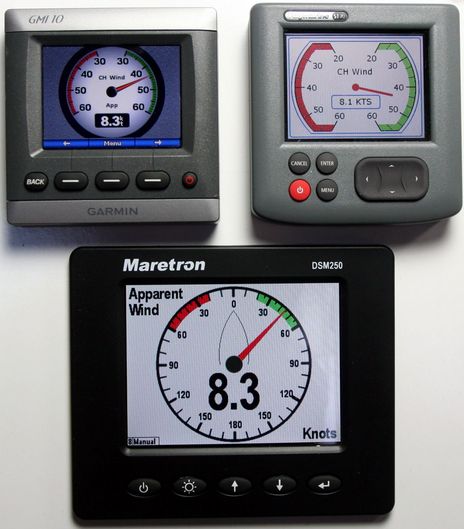 I'm pleased to report that wind speed and direction data from Garmin's GWS 10 NMEA 2000 wind wand shows up fine on all the N2K instrument displays and MFDs in the lab. (There is a small problem with the GWS's air temp and pressure data, which Garmin will probably fix quickly.) The only oddity is a substantial response lag on the Raymarine ST70 (but I understand that a major software update of that unit is coming soon). Using the GMI 10 or a Garmin MFD like the 5212 you can correct the vane's offset (if the masthead install wasn't perfect) or dial in speed and direction dampening factors if you don't like the "auto" modes (I do, so far). Aside from the ST70, all displays responded instantly to such calibrations.
While it's nice that sensor/display mixing is possible, Garmin deserves applause for the wind screens it created for the GMI 10. The Garmin coders might consider "borrowing" that rectangular gauge design from Raymarine -- which makes maximum use of the screen -- but Raymarine, and Maretron, ought to "borrow" a lot from Garmin...
Below is the first menu you get to if you're using the GMI 10's close-hauled wind screen. Here you can easily switch back and forth from Apparent to True, set the Speed Source for the flavor of "True" wind you want, and scale the close-hauled gauge to your desires (20-40 degrees is the tightest scale available, and it shows slight course/wind changes very well). You can also set up and scale the automatic downwind gauge that can show up when you point your boat that way. When I
first mentioned that feature
I wrongly thought that it was part of the standard 360 degree wind display, but it is nonetheless a brilliant idea.
If you simply set a GMI 10 to be a Wind display, you'll get all the screens seen on that last link plus a nicely designed Ground Wind dial (which is what most everyone but sailors thinks of as true wind), and another data screen set up to show air temp and barometric pressure, all of which can be customized to one degree or another from a context aware first menu. And it gets better. When I
first tried the GMI 10
, you couldn't use any of the fancy Surface, Water, or Fuel screens if you wanted to set up your own custom set of screen pages. That problem is gone. Besides adding the Wind screen set, Garmin's new GMI software lets you use any fancy screen in a custom page set, and choose them in a neat way I hadn't even imagined. This is valuable to power boaters too (who may not have read this far ;-), and will hence be detailed in another entry.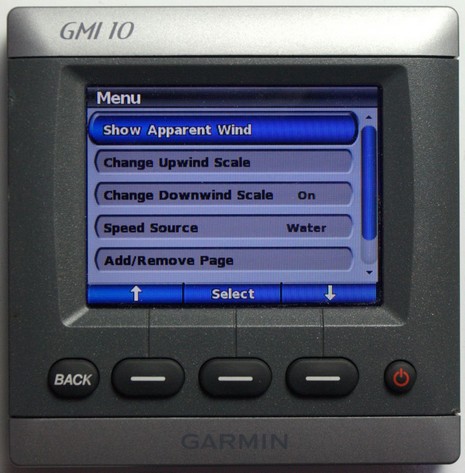 PS (3/11): Garmin sent some GMI screen shots. The set below pretty much represents what you get if you just choose Wind as the Instrument Type, but any can be used in a custom page set along with snazzy speed, depth, fuel, etc. screens.