Raymarine A-Series, hands on #1
... written for Panbo by Ben Ellison and posted on Feb 25, 2009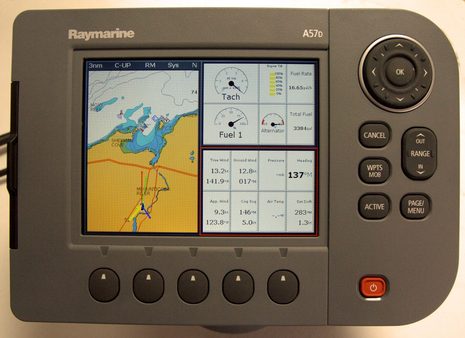 Try as I might, my photograph (click it for bigger) still fails to truly illustrate how sharp and color rich this sample of Raymarine's new A-Series actually is. I haven't yet subjected it to bright sunlight, which may mute the goodness considerably (hey, we've got two feet of snow on the ground here, people, and the snow banks chest high!). But I did bench test it for a couple of hours yesterday, which included feeding it large quantities of NMEA 2000 data (via an STng-to-standard-N2K patch cable). The A57d did well. The well developed C- and E-Series feature/interface set seems to be all here --- V4 update included (and radar excluded) --- if in miniature. Notice, for instance, the COG, Heading, Tide, and Wind arrows around the boat icon. I wouldn't normally use them all at once, but I've always found these graphics useful, given accurate sensors (and wondered why other manufacturers didn't steal them)...
I did miss the C and E's "Data" button and rotary knob, but not badly. The A57d seemed quite responsive to commands, and even ran a Navionics Platinum+ card well, as seen below (click for full resolution). I'm not sure how many people who buy a small plotter with decent charts built-in will then step up to premium cartography, but there is a case to be made. The 3D image is complex --- I was pushing it hard, cruising over Camden like an osprey (and turning back, thus seeing my own 3D boat icon tucked in by Mt. Battie) --- but note how nicely the Depth Plane (set at 16') defines the safe water. Nice feature.
I was hoping that the A-Series would include long-promised improvements in Raymarine's NMEA 2000 interface, specifically the ability to see what devices are available and choose preferred sources, plus fixes for the bugs discussed in the comments here. Not yet! But there are few small plotters that accept any N2K data messages, and the new A's can show a lot. Check out all the senors behind the top photo: engine tach, tilt, alternator, and fuel flow are coming from a Lowrance N2K test module that simulates a Suzuki outboard underway; the fuel tank level and remaining gallons from a Maretron TL100; GPS position, COG, and SOG, plus STW (Speed through Water) and heading are all coming from NEMA Talker (which is getting rewritten, I was pleased to learn) via a Simrad AT10 converter (real N2K sensors work fine too), and the wind data from a Garmin GWS10 (being driven by a fan). Why isn't the Garmin's baro pressure and air temp info showing up? Well, I've seen this before; for some reason, NMEA 2000 has two different "Environmental" PGNs that can contain this information. The Garmin outputs one and the Raymarine is looking for the other. I'm sure it will get fixed eventually, but did note that the Airmar PB200, also now in the lab, populates both PGNs and thus shows up fine on the Raymarine gear (and everywhere else). Good to be back in the lab.