Miami International Boat Show, recession ruminations
... written for Panbo by Ben Ellison and posted on Feb 16, 2009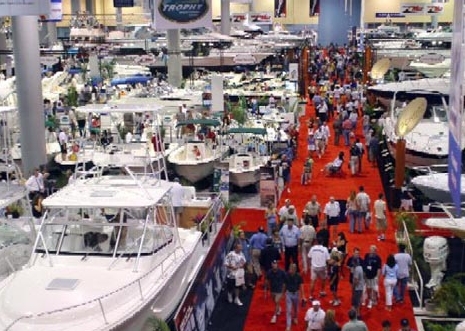 I jetted away from the Miami Boat Show (on a half-empty plane!) with loads of coming Panbo electronics material, but first I'll discuss the behind-the-booth question of the show: How bad will 2009 be? Attendance numbers aren't available yet (update: 28% off), but the aisles often seemed emptier than usual, and the Miami Herald reported way low hotel occupancy. Note, though, that the Shelburne sales guy quoted there has bigger problems than the recession, to which I can personally attest...
Ever had to ask, twice even, for soap and shampoo at a premium price hotel? How about one without coffee or newspapers, even in the lobby, but with odd odors? Well, stay away from the Shelburne Beach Resort! But it is a good example of how not to do business these days, and will likely be under new management or ownership, or shuttered, next year. Surely the marine companies which for years signed on to high group rates and guaranteed nights there will now be looking for better deals and service; and the hotels that respond well may win their business for years to come.
Isn't that what's happening everywhere? A reliable source guesses that marine electronics sales will be off 30% this year, and boat sales will be worse. But all brands won't suffer the same, and weren't equally prepared for the suffering in the first place. Rumors flew of builder "X" defaulting on loans, retailer "Y" shutting down, and manufacturer "Z" demanding credit card payment from major dealers. I don't know that any were true, but am sure that the recreational marine business is pretty uncertain and scary. Still I'd rather think about the electronics and boats that will be sold and enjoyed, and a nice dawn moment had in the hotel I guess this rant is largely about (click on photo ;-).