Blue Sea VSM 422, economy monitoring
... written for Panbo by Ben Ellison and posted on Feb 4, 2009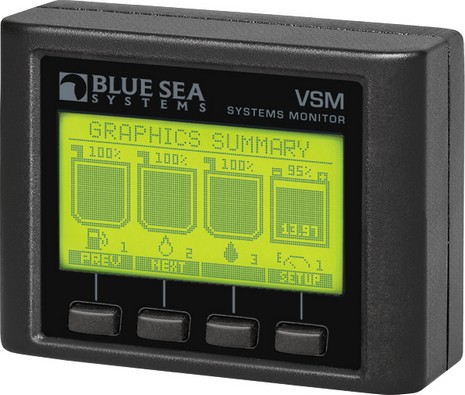 OK, it's not NMEA 2000, not color, and not touchscreen--kinda homely really--but I'm liking the new Blue Sea DC/AC/tank/bilge monitor. Actually I'm a long-time Blue Sea fan; my experience with their electrical products is that they're well designed, and well made for the money, and that the various collaterals--brochures, manuals, and Web site--are all nicely done and highly informative. The same seems true of the company's first venture from electrical to electronic...
For instance, check out the VSM 422 brochure PDF and you'll find a detailed comparison of this four-in-one monitor with the familiar dedicated systems from Xantrex, BEP, Cruz Pro, BSS, Hart, and Celectron, comparing not just features but street price. (I really like it when companies are public with their competitive claims, as opposed to whispering them in boat show booths; for one thing, it gives the competitors a chance to call them on false claims, which any of the above companies are welcome to do here.)
If you also read the VSM 422 manual PDF, you'll find that Blue Sea has incorporated a lot of monitoring subtleties, like the ability to fire off a bilge pump alarm based on minutes of run time per hour or cycles per day. Or three types of tank configuration and compatibility with not only standard level sensors but also the interesting and relatively inexpensive SSI ultrasonic Fluid-trace that Blue Sea distributes. West Marine sells both products, and will be showing them off at a press conference in Miami next week. The VSM 422 is not for big boats--limited as it is to one bilge pump, two batteries, two tanks, and either a third battery or tank--but it looks like it could improve system awareness on, and neaten up, a lot of boats I've been on.