JDC Seawatch, gift for a fair-haired fool?
... written for Panbo by Ben Ellison and posted on Dec 19, 2008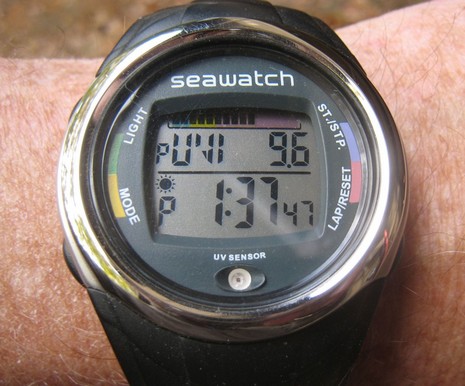 Maybe, like me, you've been even lamer than usual about Christmas shopping? And maybe someone on your list is a fair-haired fool who's lame about proper skin protection, also like me? Well, consider the Seawatch, the first ever with a built-in UV sensor…
I've been wearing the sample above for a couple of months and can attest that it works, and it's held up fine. Admittedly I've been using it during the darkest months of the year, and you have to (pull up your sleeve and) aim the sensor to get an accurate reading, but I do think the UV alarm will help me remember my fragile freckled skin on those short-sleeve warm but overcast and high UV days when I might otherwise crisp myself next spring and summer. In the image above, and bigger here, I have the Seawatch showing accumulated peak UV, as indicated by the black bars and upper 'p'; normally it shows current UV by color code, or you can switch the whole top bar to day-of-week and date (aka, sleet and snow storm in Brooklyn mode).
The Seawatch also has chronograph functions and a half-decent night light, and it's smaller and lighter than it may look in the photo (I have a skinny wrist). It suits me fine for everyday wear, but it is not a high-end watch by any means, as reflected in the under $50 price. However, even fancy watch aficionados may like this one to use as a boat-only watch they won't cry about if it eventually goes overboard with an anchor chain or sheet (yeah, I'm that kind of fool too, twice). Defender has an informative entry on Seawatch, and U.S. distributor Ocean Equipment has a list of other possible retail outlets.