SPOT's call center, a bunker near Houston!
... written for Panbo by Ben Ellison and posted on Mar 7, 2008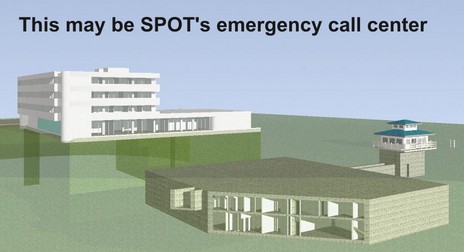 My PMY March column about SPOT is now online, and you'll see that I gave the company guff for what I thought was "hyped-up fear marketing." But in fact they've toned that down quite a bit recently. The "Live to tell about it" tag line is still around, but the home page closeup of the toothy, drooling bear and the lame homilies—like the one about coming home in coach instead of in cargo—have vanished. I'd like to think I had something to do with it, but more likely is the marketing realization that Spot's real draw is its ability to do tracking and non-distress messaging.
It's easy to make the argument, as I did, that a PLB is a more reliable distress device, and costs about the same over time. However, there's an interesting exception for people adventuring in the third world. That's because Spot's private rescue center operator, GEOS Alliance, can purportedly help you out in ways that many official third world SAR operations can not. Like helicopter extraction! Plus it's only another $8 on top of your annual $99 Spot subscription to get $100,000 worth of such private rescue service.
Finally, in the course of my research I heard—though never confirmed now confirmed—that GEOS's 24/7/365 emergency call center is located in a weird old fallout shelter outside Houston, Texas. The story goes that the gigantic bunker was built in the early 80s by a Taiwanese oil mogul fearful of a Chinese nuclear attack, but now it's being used by companies who need a super secure control center. Let me be clear that if you use SPOT's 911 button in the U.S., the call center is going to handle it just as the SARSAT center would; if you're on a boat the USCG will be alerted. But if, say, you're cruising off Somalia the operatives working deep under the "pagodas" in Montgomery, Texas, may have you extracted by chopper. I doubt that you'll also get served a perfect martini, but isn't there a James Bond ring to the whole deal? Have a good weekend!
(For more Panbo SPOT coverage, start here and work backwards.)