Raymarine LifeTag MOB system, well done!
... written for Panbo by Ben Ellison and posted on Jan 9, 2007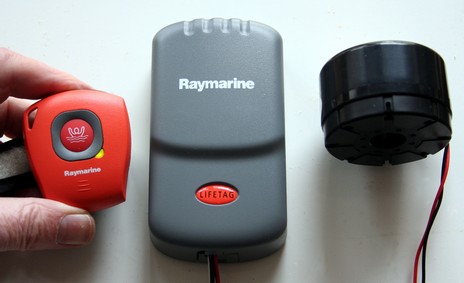 Raymarine introduced this LifeTag man overboard system last February, but then couldn't actually start shipping it in the U.S. until November. These things happen, but it does tend to diminish a new product's reputation. Well, I've been testing LifeTag, it works exactly as promised, and it deserves attention. One thing I particularly like is that—unlike some other safety gear, EPIRBs and life rafts come to mind—you don't have to worry if it will function when you need it. LifeTag is what might be called an "alarm on failure" system; once on, the easy-to-tote tags regularly communicate (via ZigBee) with the base station, alarming if the connection breaks, or if just the tag breaks. The basic stand-alone system shown above was trivial to install and learn. The buzzer sounded if I wandered too far away or pushed the "help!" (or "wake up, matey") button, plus you can disarm the alarm with the tag, and the multicolor LED tells you what's going on. All nice, but even better is hooking LifeTag into a Raymarine SeaTalk network. More on that, and other considerations, tomorrow.