The AIS receiver test, testing is hard!
... written for Panbo by Ben Ellison and posted on Aug 29, 2006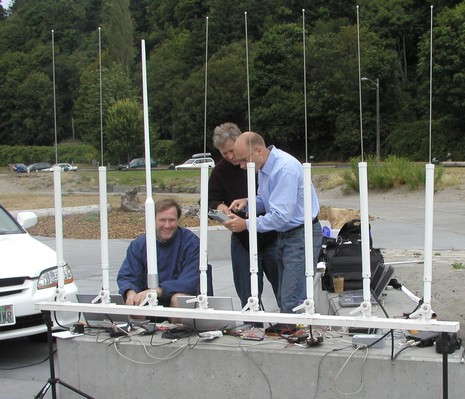 This photo shows the AIS receiver test I mentioned a while back. There's organizer Jeff Hummel of Rose Point Navigation, Doug Miller of Milltech Marine and Cory Sytsma of SeaCAS, plus eight different receivers all set up on the shore of Puget Sound. It would be great to see how they performed head-to-head, but the picture also reveals what turned out to be a significant flaw in the testing. The close proximity of receivers and antennas apparently created an interference cloud so strong that performance dropped 50–75%! For instance, the first unit that was turned on, a single channel SR161, showed a range of 17-20 miles until the others went on and its range dropped to around 7 miles. The crew did go on and collect some results (which didn't look good for single channel models), but almost none of the manufacturers involved think they should be published. Hopefully the test will be restaged with much greater separation between the units. In the meantime, hats off to Jeff and the gang for the effort. Their work does suggest that we need to learn more about receiver interference and proper installation, and they also did a separate antenna test that we'll publish soon.