Super Cheater, do they make 'em like they used to?
... written for Panbo by Ben Ellison and posted on May 30, 2006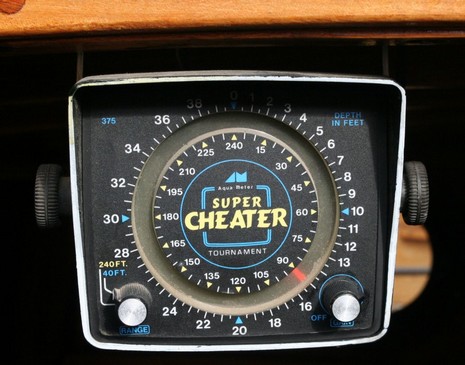 Would you be surprised to learn that Audacity's electronics are minimal? Actually just a venerable Garmin 48 at the chart table and this fabulous Aqua Meter Super Cheater Tournament depth flasher in the aft companionway (bigger here). I had a flasher like this in the 70's and they work darn well. Like an analog watch, it only takes a few brain cycles to keep track of depth on that big round dial (15 feet in this case). Plus it's simple as pie; left button switches between the two ranges, right button controls gain and on/off. But it's hard to see fish on these things and darn funny to think of one as a fisherman's "Tournament Super Cheater", but then again the similar Lowrance's famous Fish-Lo-K-Tor was a million seller. Actually, there's at least one company, Vexilar, still making flashers, though they look a little more sophisticated than this.