Icom's "New Look" family: M92D, M424 & CommandMicIV
... written for Panbo by Ben Ellison and posted on Feb 23, 2012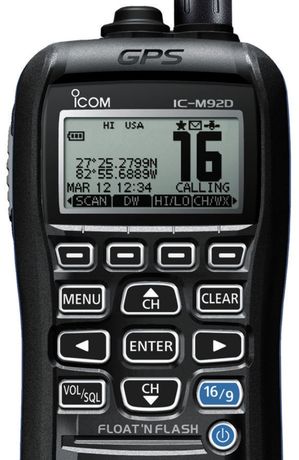 I don't know why Icom didn't hold a press conference in Miami because the company certainly has significant new products to brag about. Maybe it's because neither the GPS/DSC/VHF handheld M92D above nor the fixed M424 sibling in its new family of radios is currently FCC certified, and therefore they aren't yet for sale or even priced. But quick FCC approvals seem possible and if priced right I'll guess that "The New Look of Icom" -- that's the theme of the ad campaign -- will draw customers...
I'm a longtime fan of handheld VHFs with GPS built in and hence the ability to place DSC calls, including automated Distress. Radios like the Standard Horizon HX851 and the Simrad HH33 can also be used for small boat navigation and can even be position polled from a mother yacht. Naturally Icom seems to have incorporated most all their features into the M92D and added at least one more. That's active noise cancelling on both the user voice transmission and incoming calls; I'm not sure if it's the same technology used in Icom's M36 handheld, but if so my experience is positive. The M92D also claims full Class D DSC specs, meaning that it has a separate receiver to constantly monitor the digital calling channel (70). By contrast, the Simrad handheld DSC VHF, and its Lowrance LHR-80 sibling, only meet the SC-101 specification, and I've seen the latter miss DSC calls when busy on a voice channel. (I'm not sure of the HX-851, but think it's also Class D.) Meanwhile, the M92D also features an interesting new interface with four soft keys, and that's the real meaning of Icom's "New Look"...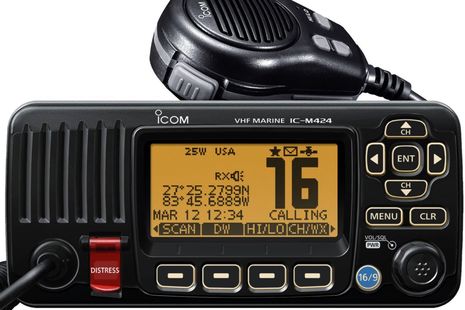 Note how the new M424 has the same four soft keys driving a very similar menu structure as the handheld screen at top. The M424 also claims the same noise cancelling features, and even the new optional CommandMicIV it supports has the New Look. So the idea is not only an improved inferface, but one that will be familiar all around an Icom-equipped boat. Smart!
Now in fact many of the VHF manufacturers offer easier to use soft key interfaces these days---I'm thinking of Standard and Garmin particularly---and their remote mics and handhelds (if they offer them) are similar. But I'm not sure that any other manufacturer has been so conscious about making all the interfaces as "family" as possible. Hopefully readers will dig into the various product pages for more comparative detail on this and other features. Better yet, maybe we'll get to try all these new Icoms soon. But before I close, there's one more thing...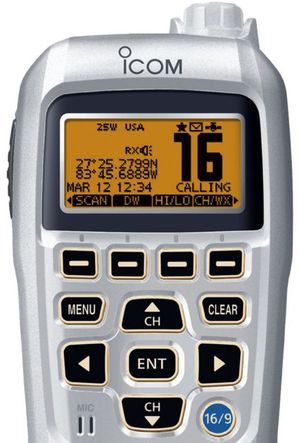 Yes, indeed, Icom has quietly introduced an "affordable" black box navigation system that can support one or two 12-inch monitors and can be ganged with other processors all sharing Icom radar and fishfinder modules! I don't know if the boating world can support another MFD system but the MarineCommander system I saw in Miami certainly looked rugged. More to come.